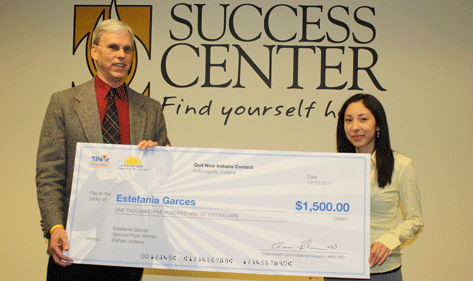 Daniel Gray, Wabash Co. Tobacco Free Coalition, and senior Estefania Garces
Quitting smoking pays off
for Manchester College student
Estefania Garces, a senior at Manchester College who quit smoking this fall, has received a $1,500 incentive from the Tobacco Prevention and Cessation Commission at the Indiana State Department of Health to keep up her good work.

The Elkhart, Ind., native and two other Indiana residents were randomly chosen from more than 4,800 Hoosiers who entered the 2011 Quit Now Indiana Contest. Garces received her prize for remaining tobacco-free for at least 31 days, and proving it with a test.

"Estefania was one of 37 smokers who registered for the contest in Wabash County," said Daniel Gray, coordinator of the Wabash County Tobacco Free Coalition.

Garces quit cold turkey, substituting exercise for smoking. "Whenever I had an urge to smoke, I would go out for a run or head to the gym – it really helped take my mind off wanting to smoke. She began smoking shortly after graduating from Elkhart Central High School. She tried several times to quit, but was easily tempted by friends who smoke.

"I have always known smoking was a bad habit and that I needed to quit, not only for myself but for my loved ones," said Garces, a biology-chemistry major who plans to become a physician. "I have two younger siblings who look up to me, and I would hate to see them participating in such unhealthy behavior."

Garces plans to donate 10 percent of her reward to her hometown church, and use the rest to pay college bills.

Manchester College collaborated with the Wabash County Tobacco Free Coalition to place entry forms, drop boxes and advertising for Indiana's Quit Now competition on campus, said Heather Banks, campus director of Health Services.

"We hope Estefania's success will encourage others to take a step toward becoming smoke-free," said Banks. "We are excited to have her here on campus as a success story but she can also serve as a role model to those in our entire county and to those in her hometown."

The Quit Now Indiana contest is an annual promotion of the Tobacco Prevention and Cessation Commission of the Indiana State Department of Health and INShape Indiana. MDwise Hoosier Alliance and ADVANTAGE Health Solutions donated the prizes.

"As a physician, I have seen tobacco use slowly destroy the lives of Hoosiers," said Indiana State Health Commissioner Gregory Larkin, M.D. "The Quit Now Indiana Contest provides an incentive for smokers to quit, but the initiative affects change on a much larger scale. We want Indiana to me a model for other states."

While the Quit Now Indiana winners are receiving cash for their success, their biggest rewards will be improved health and save money they would spend on tobacco products. The 2010 Surgeon General's Report says biological evidence suggests each cigarette is doing immediate damage and the sooner the smoker quits the better. Many contestants used the Quit Now Indiana Facebook page as a place to share their struggles, experiences and to receive quit tips. Learn more about quitting at Quit Now Indiana.

"Ending tobacco addiction is difficult and every contestant who made a quit attempt needs to be applauded for their efforts," said Karla Sneegas, assistant commissioner of Tobacco Prevention and Cessation at the State Health Department. "Sometimes it takes more than one attempt to quit. Keep trying and do not give up. For anyone who is ready to try to quit, I encourage them to call the Indiana Tobacco Quitline at 1.800.QUIT.NOW, a free service staffed by trained quit coaches."

The other winners of the Quit Now Indiana Contest are Jeanetta Browne of Indianapolis, who received $2,500, and Marcia Chaney of Markleville, who received $1,000.
December 2011