Revolution guide Gene Sharp
is Manchester's
2012 Innovator of the Year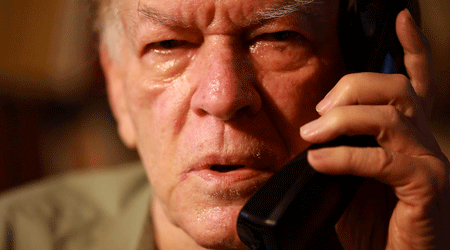 Photo courtesy of Ruaridh Arrow, director of How to Start a Revolution.
Gene Sharp, author of non-violent revolution worldwide – including the strategies that toppled the Egyptian government – is Manchester College's 2012 Innovator of the Year.

Manchester has blended presentation of the award and Sharp's acceptance speech into an multi-media convocation at 3:30 p.m. on Tuesday, April 10. (The 84-year-old is unable to make the trip in person.) The public is invited to the free event in Cordier Auditorium on the North Manchester campus, sponsored by the Mark E. Johnston Entrepreneurship Program at Manchester.

Nominated in 2012 and 2009 for the Nobel Peace Prize, Gene Sharp is author of the groundbreaking book, From Dictatorship to Democracy, which lists 198 nonviolent weapons for toppling dictators. The guide, available free online, has been slipped across borders and hidden from police all over the world.
"Gene Sharp's tactics for peaceful removal of powerful dictators and how he made his work available to the Arab Spring citizen revolutionaries is truly innovative," said Jim Falkiner, the Mark E. Johnston Professor of Entrepreneurship. "Gene Sharp created and shares for free his proven tools that inspire people to stand up to oppression and win the battle peacefully." The College offers a Certificate in Innovation, preparing students to make their own innovative contributions in business, world affairs, teaching, government or any career or calling.

Sharp's methods have influenced and inspired democratic struggles in the Balkans, Eastern Europe, Indonesia and Burma. In 2009, the Iranian government charged protesters with using Gene Sharp's tactics. His core message: The power of dictatorships stems from the willing obedience of the people they govern. If the people withhold their consent, a regime will crumble.

Students will learn more about the effectiveness of Gene Sharp's strategies at 7 p.m. on Wednesday, April 4, at a campus preview of a new documentary, How to Start A Revolution. The film profiles Sharp and key leaders of revolutions around the world who have taken his advice. The public is welcome to join students for the free film and discussion in Cordier Auditorium, sponsored by Education for Conflict Resolution.

Sharp, an Ohio native, is founder and senior scholar of The Albert Einstein Institution, a non-profit organization advancing the use of non-violent action around the world. (Einstein wrote the forward to Sharp's first book, Gandhi Wields the Weapon of Moral Power: Three Case Histories.)

Sharp held a research appointment to Harvard University's Center for International Affairs for more than 30 years. With graduate degrees from Ohio State and Oxford universities, he is professor emeritus of political science for the University of Massachusetts. For more about Gene Sharp, visit www.aeinstein.org.

For more about entrepreneurship at Manchester College, or studying for a Certificate in Innovation, visit idea.manchester.edu.
March 2012