Two Manchester students receive
federal grants to study abroad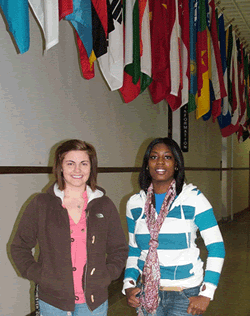 One is headed to India. The other to Ecuador. Manchester College juniors Chris Woodard and Joi Harmon will embark on international study in 2011 as recipients of the competitive Benjamin A. Gilman International Scholarships awarded by the U.S. Department of State.
The scholarships, sponsored by the federal Bureau of Educational and Cultural Affairs, gives study abroad opportunities to students unable otherwise to afford the expenses. The scholarships are valued up to $5,000, with priority to students who choose non-traditional destinations.
Joi Harmon, the first in her family to attend college, is majoring in marketing and management. She plans to study in Quito, Ecuador. Chris Woodard, majoring in biology and environmental studies will spend her spring semester in Pondicherry, India with BCA Study Abroad.
Five Manchester College students have received Gilman scholarships for international study since the program began in 2001, said Thelma Rohrer, director of international studies and academic enrichment. Manchester students have opportunities to study abroad for a semester, a full year and during January session. Learn more at www.manchester.edu.

January 2011