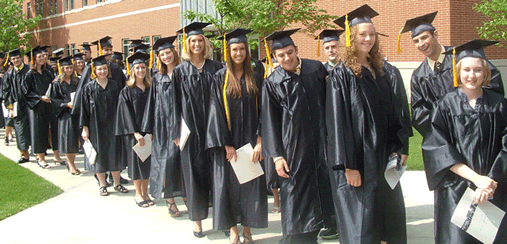 Sen. Lugar to Manchester grads:
You've got what it takes to succeed
U.S. Sen. Richard G. Lugar felt right at home May 23 as he addressed the Class of 2010 of Manchester College and received an honorary degree.

He'd spoken on the northern Indiana campus before, as a high school participant in a debate contest, and to the Class of 1970, when he was mayor of Indianapolis. But he also identified strongly with the graduates because he, too, is a product of a small, independent school – Denison University in central Ohio.

Manchester College awarded 143 bachelor of science degrees, 46 bachelor of arts degrees, two associate of arts degrees, and the honorary doctor of humane letters. It was Manchester's 121st commencement.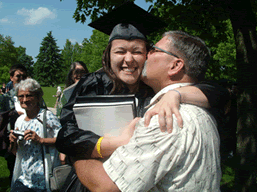 "Like each of you, I had the benefit of attending a small college that expanded my horizons and facilitated lasting friendships," he told Manchester graduates. "At their best, small colleges are devoted to the lofty goal of developing whole people who can navigate the intersections among financial futures, private lives, public duties and spiritual cores.

"Through art, business, science, the humanities, management or other talents developed here, you will be a productive individual who will be willing and able to take action in the service of moral values and human welfare."

Lugar also had encouraging words in a difficult job market. "… we should understand that the current climate of international economic dynamism rewards education above all other commodities. It rewards those with multiple skills who dedicate themselves to a lifetime of learning."

President Jo Young Switzer shone the light on the very full arena audience: "Our graduates here today know that their successes came about not just from their own efforts. They relied on their parents and families for financial help, encouragement, care packages, attendance at concerts, recitals and athletic competitions, and warm welcomes at home over breaks." Loud applause erupted from the robed graduates and faculty.

Before their march out into the hot May afternoon and the arms of their loved ones, the Class of 2010 heard final words from their College president: "Deal directly with your problems. Your Manchester experience has taught you alternatives to violence – both physical and verbal. … Treat the earth kindly. … Pass on the gifts you have been given."
***summa cum laude **magna cum laude *cum laude
| | | | |
| --- | --- | --- | --- |
| Graduate | Deg. | Major | Hometown |
| Emily Abraham* | BS | Biology-Chemistry | Jackson, Mich. |
| Malika Adam | BS | Accounting | North Manchester, Ind. |
| Jasmyne Ahmad | BS | Political Science | Dayton, Ohio |
| Tiffany Alva | BS | Environ. Studies/Biology | Medaryville, Ind. |
| Lindsay Anderson | BS | Educational Studies | Hammond, Ind. |
| Nicole Anderson | BS | Music/K-12 Instrumental | Frewsburg, N.Y. |
| Emily Ashbrook | BA | Political Science | Peru, Ind. |
| Joshua Atkinson | BA | History | Portland, Ind. |
| Jared Baker | BS | Political Science | New Haven, Ind. |
| Alison Baker** | BA | Early-Mid Education/Mild Int. | Bristol, Ind. |
| Janel Barsich* | BA | Management | Crown Point, Ind. |
| Scott Bartley | BS | Computer Science | South Bend, Ind. |
| Emily Bauman | BS | Early/Mid Education | South Whitley, Ind. |
| Ronald Berish*** | BS | Biology-Chemistry | Columbia City, Ind. |
| Tiffany Berkebile* | BA | Communication/Spanish | Walkerton, Ind. |
| Paul Billingsley | BA | Philosophy/Religion | Batesville, Ind. |
| Benjamin Bingham | BS | Athletic Training | Wilder, Ky. |
| Zachary Blatz | BS | Chemistry | Wabash, Ind. |
| Austin Blomeke | BA | Art | Kendallville, Ind. |
| Kara Bolinger | BS | Early-Mid Education | Columbia City, Ind. |
| Rosemary Bond | BS | Management | Saint Charles, Mo. |
| Kelsey Box | BA | Sociology | Mooresville, Ind. |
| Beau Bradtmiller | BS | Accounting | Markle, Ind. |
| Kristi Brown | BS | Early-Mid Education | Veedersburg, Ind. |
| Korey Bucher | BS | Early-Mid Education | Plymouth, Ind. |
| Joshua Buell | BS | Computer Science | Angola, Ind. |
| Kalie Carlisle | BS | K-12 Adapted Phys Educ | Evansville, Ind. |
| Thomas Carlson | BS | Marketing | Westfield, Ind. |
| Timothy Carver | BS | Communication Studies | Amboy, Ind. |
| Samantha Carwile | BA | Peace Studies | Anderson, Ind. |
| Chris Cecil | BS | Management/Marketing | Indianapolis |
| Colin Clemens | BS | Marketing | Warsaw, Ind. |
| Jordan Cork | BS | Fitness & Sport Management | Speedway, Ind. |
| Travis Crosby | BS | Marketing | Fort Wayne, Ind. |
| Sarah Curry** | BS | Biology/Environ. Studies | Fishers, Ind. |
| Tihitina Dagnew*** | BS | Political Science/Economics | Addis Ababa, Ethiopia |
| Lane Davis | BS | Accounting | Bourbon, Ind. |
| Catherine Davis* | BA | Art | Argos, Ind. |
| Michael DePoy | BS | Sociology | South Bend, Ind. |
| Mary Dickey | BS | Early-Mid Education/Mild Int. | Goshen, Ind. |
| Jacqueline Dobbert | BS | Biology | Greentown, Ind. |
| Hannah Doenges* | BA | French/Political Science | Fort Wayne, Ind. |
| Amanda Donelson | BS | Athletic Training | Kokomo, Ind. |
| Joseph Dwars | BS | Fitness & Sport Management | Munster, Ind. |
| Alyson Edwards | BS | Sociology | Fort Wayne, Ind. |
| Joe Egner | BS | Fitness & Sport Management | Silver Lake, Ind. |
| Andrew Evans | BS | Management | North Manchester, Ind. |
| Lisa Ewing*** | BA | Spanish | Auburn, Ind. |
| Jonathan Fagan | BA | Religion | Indianapolis |
| Stephen Fakoyejo* | BS | Biology-Chemistry | Abuja, Nigeria |
| Brandon Fancher | BS | Exercise Science | Indianapolis |
| Joshua Faudree | BS | Music | Fishers, Ind. |
| Melissa Faudree | BS | Communication Studies | Fishers, Ind. |
| Nikki Ferguson | BA | 5-12 Social Studies | Fort Wayne, Ind. |
| Carol Fike | BS | Early-Mid Education/Mild Int. | Pearl City, Ill. |
| Michelle Fishburn | BS | Accounting | Denver, Ind. |
| Cassandra Franks | BA | Accounting/Finance | Warsaw, Ind. |
| Jordan Frye | BS | Sociology | Wabash, Ind. |
| Josalyn Frye* | BA | Psychology | Alexandria, Ind. |
| Beau Fulk | BS | Biology-Chemistry | Fort Wayne, Ind. |
| Spencer Fulk | BA | Art | Fort Wayne, Ind. |
| Kathryn Garrett* | BA | Political Science | Wolcott, Ind. |
| Jaclyn Gore | BS | Early-Mid Education | Valparaiso, Ind. |
| Nyssa Gore | BA | 5-12 Mathematics | Monticello, Ind. |
| Caleb Grimes | BA | English | South Haven, Mich. |
| Shaun Guthrie | BS | Sociology | Bedford, Ind. |
| Daniel Haffner | BS | 5-12 Mathematics | Ridgeville, Ind. |
| Erica Hahn | BS | Finance/Economics | Walkerton, Ind. |
| Adam Hall | BS | 5-12 Social Studies | Wabash, Ind. |
| Nicole Hammond | BA | Biology-Chemistry/Spanish | Mishawaka, Ind. |
| Laura Hand | BS | Finance/Economics | North Manchester, Ind. |
| Robin Harmon | BS | Early-Mid Education/Mild Int. | Warsaw, Ind. |
| Anna Harvey | BA | Art | Indianapolis |
| Benjamin Harvey*** | BA | Religion | Ann Arbor, Mich. |
| Ashlee Haviland | BS | Biology/Environ. Studies | North Manchester, Ind. |
| Benjamin Haviland | BS | Accounting | North Manchester, Ind. |
| Erica Hedges | BS | Ath. Training/Exercise Science | Holland, Mich. |
| Katie Hileman | BS | Social Work | Akron, Ind. |
| Nathan Hodges | BS | Communication Studies | Crawfordsville, Ind. |
| Terry Honeycutt | BS | History | Wabash, Ind. |
| Lauren Houser*** | BS | Early-Mid Education/Mild Int. | Middlebury, Ind. |
| Wasim Jabari | BS | Marketing/Management | East Jerusalem, Israel |
| Andrew Jackson | BS | Accounting | Jackson, Mich. |
| Braden Jones | BS | K-12 Health & Phys. Ed. | Walton, Ind. |
| Jermiah Jones | BS | Marketing | East Chicago, Ind. |
| Lauren Kalis | BS | Exercise Science | Hebron, Ind. |
| Joshua Kapla | BS | Exercise Science | Hudsonville, Mich. |
| Katrina Kardys | BA | English | Hoagland, Ind. |
| Kessie Karg | BS | Psychology | North Manchester, Ind. |
| Chris Kayondo | BS | Accounting/Finance | Kampala, Uganda |
| Carmen Keller | BS | Accounting | Urbana, Ind. |
| Tanalee Kelley | AA | Early Childhood Education | Columbia City, Ind. |
| Jaron Kellie | BS | Management | Roachdale, Ind. |
| Adam King* | BS | English | Bluffton, Ind. |
| Stephani King | BS | Management | Liberty Mills, Ind. |
| Sahara Kipfer* | BA | Early-Mid Education | Bluffton, Ind. |
| Corinna Klawon | BS | Management/Marketing | Hamburg, Germany |
| Brianna Knight | BS | Psychology | Peru, Ind. |
| Casey Lambert* | BA | English | Chesterton, Ind. |
| Evan Lancaster | BS | Marketing/Management | Warsaw, Ind. |
| Brenna Leach | BS | Biology-Chemistry | Frankfort, Ind. |
| Ebony Lee | BS | General Business | South Bend, Ind. |
| Jonathan Lehman | BA | History | Silver Lake, Ind. |
| Alyca Lupkin | BS | Psychology | Yoder, Ind. |
| Alyssa Machamer | BS | Biology-Chemistry | Winamac, Ind. |
| Lindsey Machamer | BS | Biology-Chemistry | Winamac, Ind. |
| Kamau Maina | BS | Computer Science | Nairobi, Kenya |
| Sally Maxwell | BA | Early-Mid Education | Delphi, Ind. |
| Jeffrey McDonald | BS | Fitness & Sport Management | Rome City, Ind. |
| Richard McKee | BS | Fitness & Sport Management | Elkhart, Ind. |
| Robert McKerr | BS | 5-12 Social Studies | Fort Wayne, Ind. |
| Jessica Mertz* | BA | Athletic Training | Kendallville, Ind. |
| Elizabeth Miller | BS | Athletic Training | Richmond, Ind. |
| Michelle Miller* | BS | Sec. Ed. Math./Mathematics | La Porte, Ind. |
| Corinna Miner | BS | Peace Studies | Elgin, Ill. |
| Brandon Minglin | BS | Early-Mid Education | Logansport, Ind. |
| Nicholas Miranda | BS | Psychology | Kissimmee, Fla. |
| Elizabeth Mishler* | BA | Biology-Chemistry | Phoenix, Ariz. |
| Allison Moore | BS | Early-Mid Education | South Bend, Ind. |
| Tiffany Moore | BS | Accounting | Ossian, Ind. |
| Kelsey Morris | BS | Early-Mid Education/Mild Int. | Bellefontaine, Ohio |
| Joshua Mote | BS | Marketing/Management | Russiaville, Ind. |
| Matthew Mullen | BS | Marketing | Shelbyville, Ind. |
| Jessica Mullin** | BA | Biology-Chemistry | Indianapolis |
| Whitney Nesbitt | BS | Psychology | Rome City, Ind. |
| Mickele Nicolazzo | BA | Religion/Philosophy | Warminster, Pa. |
| Erica Nisley | BA | Psychology | Shipshewana, Ind. |
| Natalie Noblitt | BS | Exercise Science | Roachdale, Ind. |
| Vienna Noel | BS | Accounting | Galveston, Ind. |
| Christopher Null | BS | Management | Goshen, Ind. |
| Adrienne Numbers | BA | Ath. Training/Exercise Science | Woodburn, Ind. |
| Sara Olson | BA | Marketing | Portage, Ind. |
| Rebecca Oren | BS | Psychology | Vandalia, Ohio |
| Margaret Orzeske | BS | Psychology | Indianapolis |
| Jeremy Patterson | BS | Management/Marketing | Auburn, Ind. |
| Kristen Patz | BS | Social Work | North Manchester, Ind. |
| Brandt Patz | BA | Finance | North Manchester, Ind. |
| Bryan Pehlke | BS | Accounting | Fort Wayne, Ind. |
| Jessica Phifer | BS | Social Work | Atlanta, Ind. |
| Micah Phillipson | BA | Marketing/Management | Columbia City, Ind. |
| Melissa Piazza | BS | Psychology | Warsaw, Ind. |
| Sarah Purdy | BS | K-12 Health & Phys. Educ. | North Manchester, Ind. |
| Jeremiah Rakoczy | BS | Elem. Educ., Non-Teaching | South Whitley, Ind. |
| M. Ramirez Mendez | BS | Computer Science | Akron, Ind. |
| James Reed | BS | K-12 Adapted Phys. Educ. | Gas City, Ind. |
| Amy Reidhaar* | BS | Biology-Chemistry | Fort Wayne, Ind. |
| Sheena Richard* | BA | Religion/Sociology | Rochester, Ind. |
| Amber Richey | BS | Psychology | Claypool, Ind. |
| Keegan Robinson | BA | Exercise Science | Crawfordsville, Ind. |
| Christopher Rowe | BS | Biology-Chemistry | Belleville, Mich. |
| John Sams | BS | Management | Benton Harbor, Mich. |
| Matthew Sarber | BS | History | Plymouth, Ind. |
| Kristi Sattison | BS | Political Science | Waterloo, Ind. |
| Dustin Schutte | BS | History | Walton, Ind. |
| Andrew Scolaro | BS | Exercise Science | Zionsville, Ind. |
| Tyler Secor | BS | Music/Music Composition | North Manchester, Ind. |
| Caleb Seidner | BS | Athletic Training | Montpelier, Ind. |
| Liane Shaffer** | BA | Accounting/Finance | Decatur, Ind. |
| Brett Smalley | BS | K-12 Health & Phys Educ | Forest, Ohio |
| Bryan Smethers | BA | Finance | Columbia City, Ind. |
| Nicholas Smith | BS | Elem. Educ. Non-Teach. | South Whitley, Ind. |
| Tasia Smith | BS | Early-Mid Education | Warsaw, Ind. |
| Tyler Smith | BS | K-12 Health, P.E./Ex. Science | Lima, Ohio |
| Heather Snyder | BS | Sociology | Warsaw, Ind. |
| Jordan Snyder | BS | Exercise Science | New Haven, Ind. |
| Micah Sollenberger | BS | Philosophy | North Manchester, Ind. |
| Corey Spangle | BS | Athletic Training | Claypool, Ind. |
| Steven Stapleton | BS | Accounting | Claypool, Ind. |
| James Steele | BS | Sociology | Wabash, Ind. |
| Michael Steinhofer | BS | Communication Studies | South Bend, Ind. |
| Robin Steinman | BS | Environmental Studies | Bourbon, Ind. |
| Deana Strantz | BA | 5-12 Social Studies/History | Monticello, Ind. |
| Mark Sudhoff | BS | Management/Marketing | Warsaw, Ind. |
| Steven Tidwell | BS | Marketing | LeClaire, Iowa |
| Emily Toole** | BA | Educational Studies/Psychology | Osceola, Ind. |
| Sarah Turner | BS | Chemistry | Granger, Ind. |
| Kyle Watson | BA | Chemistry | Winona Lake, Ind. |
| Trenton Weisser* | BS | Political Science | Milford, Ind. |
| Bryan Wellman | BS | Management | Auburn, Ind. |
| Angelett Wells | AA | Gerontology | South Bend, Ind. |
| Brandon Wells** | BS | Exercise Science | Woodburn, Ind. |
| Jacob Wenger* | BS | Environ. Studies/Biology | Petersburg, Pa. |
| Chad West | BS | History | North Manchester, Ind. |
| Whitney Whitehair | BS | Early-Mid Education/Mild Int. | Albany, Ind. |
| Rachel Wilkinson | BS | Marketing/Management | North Manchester, Ind. |
| Andrew Williams | BS | Athletic Training | Middlebury, Ind. |
| Margaret Winey* | BS | Accounting | Mishawaka, Ind. |
| Samuel Wysong* | BA | 5-12 Math./Mathematics | Fort Wayne, Ind. |
| Jordin Youst | BS | Accounting | Plymouth, Ind. |
| Ellen Zemlin | BA | History/Sociology | Carmel, Ind. |
| Alisha Zuber | BS | Biology | Auburn, Ind. |
President Switzer's
Graduate Reflections
Class of 2010 Response

Psychology major Erica Nisley with her very happy dad