The Class of 2012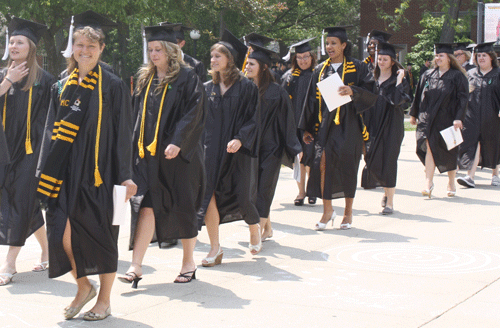 Graduation 2012: Manchester's newest graduates
share their applause with faculty, family
Speakers for the 123rd Graduation Day at Manchester College expressed tearful gratitude and gave serious advice. The new graduates shared applause – for fellow graduates, for their parents and families, and for faculty. That joyous, stomping-on-the-floor applause when their professors proceeded into the arena may start a new tradition, suggested one grinning student.
In addition to 256 bachelor's degrees and two Master of Athletic Training degrees, Manchester conferred an honorary Doctor of Science degree on Herbert Chinworth, who attended Manchester two years in the early 1940s and never let go.
The retired Dow Chemical Co. scientist supervised a catalyst plant in Ludington, Mich. He holds degrees from Purdue University and University of Michigan, and is a longtime benefactor and friend of Manchester. His pride in his new Manchester degree evident, Chinworth told the Class of 2012: "When you have a degree from Manchester College, you have something of real value.
"When you accounting students, prospective med students, social workers, business majors, education majors and all across the disciplines, begin to find your way into the world of work, the response will be similar: 'Oh, Manchester – that's a good education. You're ready; you're qualified.' This is your legacy. This is a well-earned degree. I am honored to be counted among you."

President Jo Young Switzer talked about the graduates' legacy in her baccalaureate address: "Take with you the goodness that you've experienced here – and combine it with the learning you've accomplished. Take all these things and make the world better. As you do, the world will be transformed … You have a weighty and wonderful responsibility on your shoulders to act justly, love mercy, and walk humbly with your God."
Summa cum laude graduate Natalie Collar, who delivered the "Response" from the Class of 2012, had much to say about faculty:
"Our professors – they give us their cell phone numbers and tell us to call or text if we have questions over assignments; they write impeccable recommendation letters on short notice; they invite us over to eat – or live at – their houses; they even adopt us as their own children for a few weeks to take us off campus to see The Alhambra, The Louvre, Stonehenge, Dunn's River Falls, Disney World, or Ciudad Antigua, all for the sake of a hands-on education."
Sunday was the last Manchester College commencement; Manchester becomes a University on July 1. The faculty in the procession also included five from the new School of Pharmacy. Four years from now, they'll graduate their first class of Doctor of Pharmacy degree holders.

Class of 2012
***summa cum laude **magna cum laude *cum laude


| | | | |
| --- | --- | --- | --- |
| Graduate | Deg. | Major | Hometown |
| Laura Ahnert | BA | 5-12 English/Language Arts | Peru, Ind. |
| Kelsey Airgood | BS | Environmental Studies | Simsbury, Conn. |
| Corey Aldridge | BS | Management | Lafayette, Ind. |
| Ali Algharabeh | BS | Accounting/Finance | Ramallah, West Bank |
| Richard Babb | BS | Philosophy/Peace Studies | West Lafayette, Ind. |
| Andrea Baker | BS | Environmental Studies | Pierceton, Ind. |
| Julie Baker | BS | Accounting | Rockfield, Ind. |
| Elizabeth Bales | BS | Management | North Manchester, Ind. |
| Chad Ballee | BS | K-12 Health & Phys Education | Peru, Ind. |
| Daniel Bartoli | BS | Biology-Chemistry | Columbia City, Ind. |
| Briana Bass* | BS | English | Manassas, Va. |
| Brittany Batman | BA | Physics/Spanish | Brownsburg, Ind. |
| Jesse Beam | BS | Biology-Chemistry | Roanoke, Ind. |
| Andrew Blackburn | BS | History | Indianapolis, Ind. |
| Reily Blatz | BS | Accounting/Marketing | Wabash, Ind. |
| Jessica Bolenbaugh | BS | Exercise Science | Willshire, Ohio |
| Lydia Bolls | BS | Early-Mid Education | South Bend, Ind. |
| Jessica Boursier | BA | Management/Marketing | Hobart, Ind. |
| Melissa Bowman*** | BA | Chemistry | Vienna, Va. |
| Rachel Brown* | BS | Early-Mid Education | Auburn, Ind. |
| Corey Brueggeman | BA | Sport Management | North Manchester, Ind. |
| Brittani Bush | BS | K-12 Health & Phys Education | Westfield, Ind. |
| Dylan Bush | BS | Educational Studies/Psychology | Culver, Ind. |
| Casey Bushong | BA | Management | Crawfordsville, Ind. |
| Wallace Butts | BA | Music | Fort Wayne, Ind. |
| Humphrey Bwire | BS | Political Science/Economics | Nairobi, Kenya |
| Melissa Byler | BA | Spanish | LaGrange, Ind. |
| Carol Campos | BS | Biology | Huntington, Ind. |
| Molly Captain | BS | Biology | Bluffton, Ind. |
| Jared Carrier | BS | Sociology | Hart, Mich. |
| Logan Carsten | BA | Management/Marketing | Fort Wayne, Ind. |
| Katie Chaffins | BS | English | Lagrange, Ind. |
| Amanda Chamberlin | BS | Early-Mid Education | Wilmington, Ill. |
| Samantha Chapman** | BS | Political Science | Fort Wayne, Ind. |
| Michael Chaykowski* | BA | Biology-Chemistry | Fort Wayne, Ind. |
| Sara Coffaro | BS | Social Work | Crestview Hills, Ky. |
| Natalie Collar*** | BA | Mathematics | Fort Wayne, Ind. |
| Kelsey Collins | BS | English | Fishers, Ind. |
| Corey Cook | BS | Environmental Studies | Converse, Ind. |
| Rebecca Creath*** | BS | Peace Studies/Sociology | Petersburg, Ill. |
| Dana Cronin* | BA | Psychology/Sociology | Tell City, Ind. |
| Austin Davis | BS | 5-12 Social Studies | Hamilton, Ohio |
| Cassandra Davis | BS | Political Science | Cloverdale, Ind. |
| Christine de Kater* | BA | Social Work | Indianapolis, Ind. |
| Matthew DeGolyar | BS | K-12 Health & Phys Education | Lafayette, Ind. |
| Anthony DeMarco | BS | Environmental Studies | Goshen, Ind. |
| Kelsey DeMott | BS | Exercise Science/Fitness & Sports Management | Martinsville, Ind. |
| Joshua DePew | BS | Marketing/Management | Lafayette, Ind. |
| Kari Deutscher | BS | Psychology | South Bend, Ind. |
| Amanda Dickman* | BS | Early-Mid Education/Mild Int | Batesville, Ind. |
| Hajer Dlame | BS | Computer Science | Baghdad, Iraq |
| Jonathan Dravet | BS | Economics | Crown Point, Ind. |
| Kathryn Dunlap* | BA | Psychology | Saint John, Ind. |
| April Erxleben | BS | Biology-Chemistry | Decatur, Ind. |
| Derek Eubanks | BS | Management | Nashville, Ind. |
| Kyle Fahey* | BS | Exercise Science | Rockville, Ind. |
| Kristina Faudree | BS | Early-Mid Education | Fishers, Ind. |
| Jessica Fauser | BA | 5-12 Mathematics | Valparaiso, Ind. |
| Nathan Felver* | BS | Sport Management | Upland, Ind. |
| Clint Fisher | BS | Fitness & Sport Management | Yorktown, Ind. |
| Aaron Flenar | BS | Physics | Fort Wayne, Ind. |
| Trey Forbes | BS | K-12 Adapted Phys Education | Kendallville, Ind. |
| Patrick Forester | BA | Physics/Mathematics | Indianapolis, Ind. |
| Preston Frame | BS | Early-Mid Education | Kouts, Ind. |
| Garrett Fredrick | BS | Religion | Prairie Creek, Ind. |
| Eloise Fulmer | BA | Psychology | Buford, Ga. |
| Traci Fuqua | BS | Accounting | Indianapolis, Ind. |
| Dustin Garbers | BS | Exercise Science | Martinsville, Ind. |
| Shanitra Garner | BS | Accounting | South Bend, Ind. |
| Kendra Getz | BS | Exercise Science | West Harrison, Ind. |
| Amanda Gibson | BS | Biology-Chemistry | Michigan City, Ind. |
| Nicole Glassley* | BA | English | Westville, Ind. |
| Joseph Goellnitz | BS | History | Sylvania, Ohio |
| Anna Graham* | BA | Spanish/Social Work | Fort Wayne, Ind. |
| Jessica Grandlinard* | BS | Early-Mid Education | Berne, Ind. |
| Monte Gregory | BS | Computer Science | Larwill, Ind. |
| Melissa Grinstead* | BS | Financial Accounting | North Manchester, Ind. |
| Kyle Grubbs | BA | Spanish | Muncie, Ind. |
| Alexandra Hagen | BA | Spanish | Perrysburg, Ohio |
| Austin Hamilton | BS | Accounting/Finance | Huntington, Ind. |
| Elizabeth Hamman* | BS | Environmental Studies | Claypool, Ind. |
| Clifford Hannon* | BS | 5-12 Social Studies | Fort Wayne, Ind. |
| Joi Harmon | BA | Management/Marketing | Indianapolis, Ind. |
| Brenden Hart | BS | Management/Marketing | Warsaw, Ind. |
| Megan Hartley | BS | Management/Marketing | Columbia City, Ind. |
| Ryne Hastings | BS | Communication Studies | Andrews, Ind. |
| Kaylee Hawley | BA | History | Winchester, Ind. |
| Katie Helmerick | BS | Biology-Chemistry | Lafayette, Ind. |
| Eric Hemmerlein | BS | Environmental Studies/Biology | New Palestine, Ind. |
| Tyler Henn | BS | Accounting/Management | Huntington, Ind. |
| Shaina Hiatt* | BS | Early-Mid Education/Mild Int. | Cromwell, Ind. |
| Stephanie Hofer** | BA | 5-12 Spanish | Fort Wayne, Ind. |
| Amanda Hoff | BA | English | Wabash, Ind. |
| Alex Hokanson | BA | Computer Science | Granger, Ind. |
| Amy Hommema | BS | Sport Management | Indianapolis, Ind. |
| Kailey Honn | BA | Biology-Chemistry | Westfield, Ind. |
| Andrea Hopper | BS | Biology-Chemistry | Columbia City, Ind. |
| Anden Hormann | BS | Athletic Training | Lynnwood, Wash. |
| Benjamin Houston** | BA | History | Bargersville, Ind. |
| Joshua Huffer | BS | Environmental Studies | Clayton, Ind. |
| Brooke Hulburt | BS | Biology-Chemistry | Winamac, Ind. |
| Sabrina Huskins | BA | Biology-Chemistry | Mulberry, Ind. |
| Satomi Imai | BA | Peace Studies | Hokkaido, Japan |
| Cole Jackson | BS | 5-12 Social Studies/History | Logansport, Ind. |
| Alexandra Jansen | BS | Psychology | Noblesville, Ind. |
| Brittany Jarnagin | BS | Social Work | Lebanon, Ind. |
| Heather Johnson | BA | Accounting/Finance | Columbia City, Ind. |
| Kaitlin Johnson | BA | Chemistry/Spanish | Huntington, Ind. |
| Annaleza Jones | BS | Athletic Training | New Castle, Ind. |
| Jason Jordan | BS | Management | Fort Wayne, Ind. |
| Kelli Jordan** | BA | 5-12 Math/Mathematics | Danville, Ind. |
| Lauren Kalis | MAT | Athletic Training | Indianapolis, Ind. |
| William Kallas | BA | Political Science/Comm Studies | Hammond, Ind. |
| Emily Katona | BA | 5-12 English/Language Arts | Porter, Ind. |
| Erik Kenny | BS | Communication Studies | Fort Wayne, Ind. |
| Thomas Kesling* | BS | Engineering Science | La Porte, Ind. |
| Addy King | BS | Psychology/Sociology | Tipton, Ind. |
| Sarah Knoch*** | BS | Accounting | Leo, Ind. |
| Stacie Koch** | BA | Social Work/Economics | Nappanee, Ind. |
| Mary Kohrman | BS | Biology | New Haven, Ind. |
| Sarah Kuborn | BS | Psychology | Darien, Ill. |
| Joshua Kunkel | BS | History/Sociology | Huntertown, Ind. |
| Chessany Kyle | BS | Psychology | Kirklin, Ind. |
| Matthew Landrum | BS | Fitness & Sport Management | Bunker Hill, Ind. |
| John Lash | BS | Chemistry | Kendallville, Ind. |
| Shae Lauer | BS | Early-Mid Education/Mild Int. | Wabash, Ind. |
| Sarah Lauinger | BS | Chemistry | Indianapolis, Ind. |
| Matthew Layman | BS | Athletic Training | Mishawaka, Ind. |
| Andre Lee | BS | Exercise Science | Indianapolis, Ind. |
| Kyle Leffel | BS | K-12 Health & Phys Education | North Manchester, Ind. |
| Peter Lewis | BS | History | Griffith, Ind. |
| Nathan Liddick | BS | Marketing | Marion, Ind. |
| Matthew Linn** | BS | Biology/Environmental Studies | Columbia City, Ind. |
| Kathryn Loeser | BS | Biology-Chemistry | Granger, Ind. |
| Allison Long | BS | Management/Finance | Plymouth, Ind. |
| Benjamin Long | BS | Environmental Studies | Rochester, Ind. |
| Delanie Losey** | BA | Environmental Studies/Chemistry | Butlerville, Ind. |
| Casey Loshe* | BS | Early-Mid Education/Mild Int. | North Manchester, Ind. |
| Sarah Louvier | BS | Early-Mid Education/Mild Int. | Wolcottville, Ind. |
| Rebecca Lowden* | BA | Psychology | Kokomo, Ind. |
| Amy Luthanen | BS | Psychology | North Manchester, Ind. |
| Benjamin Madsen | BA | History | South Bend, Ind. |
| Katie Majka | BS | English | Saint John, Ind. |
| Herb Manifold | BS | Environmental Studies | Mooreland, Ind. |
| Robert McClintock | BS | Marketing/Management | South Bend, Ind. |
| Anthea McCormick | BS | Biology-Chemistry | Mishawaka, Ind. |
| Lauren McCoy | BS | 5-12 English/Language Arts | Goshen, Ind. |
| Ashley McGovern | BA | Accounting/Finance | Niles, Mich. |
| Sarah McKinney | BS | Sport Management | Connersville, Ind. |
| Laine Mello | BS | Marketing | Fort Wayne, Ind. |
| Mitchell Mellott | BS | Communication Studies | Bourbon, Ind. |
| Justin Minnich | BS | K-12 Health & Phys Education | Fort Wayne, Ind. |
| Ryan Monce | BS | Accounting/Finance | Fort Wayne, Ind. |
| Najah Monroe | BA | Music | South Bend, Ind. |
| Eric Moreland | BS | Management | Modoc, Ind. |
| Holly Morris | BS | Psychology | Eaton, Ind. |
| Jordan Moss | BS | Early-Mid Education | Fort Wayne, Ind. |
| Douglas Murphy* | BS | Accounting | Ossian, Ind. |
| Jamie Murray* | BS | Accounting | Hamlet, Ind. |
| Daniel Myers-Bowman | BS | Music | Manhattan, Kan. |
| David Neal | BS | Exercise Science | Lafayette, Ind. |
| Maria Neff** | BA | Management | Greenville, Ohio |
| Danielle Neill | BS | Early-Mid Education/Mild Int. | Crown Point, Ind. |
| Andrew Nicodemus | BA | Accounting | Columbia City, Ind. |
| Nicholas Null | BS | Marketing/Management | Fort Wayne, Ind. |
| Quenton Oakes | BS | Philosophy | Rochester, Ind. |
| Benjamin Ogden | BS | Marketing/Management | South Whitley, Ind. |
| Emily Ogden | BS | Accounting | Wabash, Ind. |
| Whitney Ohmer | BA | Psychology/Spanish | Noblesville, Ind. |
| Dorothy Oliver | BS | Sociology | Noblesville, Ind. |
| Jessica Orban | BS | Accounting | South Bend, Ind. |
| Kyle Patterson* | BA | Religion/Philosophy | Fort Wayne, Ind. |
| Elizabeth Pattison | BS | Biology-Chemistry | North Manchester, Ind. |
| Rebecca Pendergrass | BS | Communication Studies | Fairborn, Ohio |
| Joseph Peters | BS | Sport Management | Decatur, Ill. |
| Ryan Peterson | BS | Environmental Studies/Biology | Marion, Ind. |
| Whitney Piatt | BS | K-12 Health & Phys Education | Clarksville, Ind. |
| Julia Pierce | BA | Biology | Crawfordsville, Ind. |
| Sarah Plew** | BA | English/French | Westfield, Ind. |
| Ashley Poe | BA | Fitness & Sport Management | Dunkirk, Ohio |
| Erin Puckett | BS | Accounting/Finance | Rochester, Ind. |
| Carmen Pyles | BS | Environmental Studies | Racine, Wisc. |
| Michael Raines | BS | English | Terre Haute, Ind. |
| Alexandria Rans | BS | Psychology | Plymouth, Ind. |
| Ian Reed*** | BS | Biology-Chemistry | Kentland, Ind. |
| Krista Reese | BS | Sociology/Peace Studies | Wyoming, Mich. |
| Teagan Rhoades | BS | Biology-Chemistry | Brownsburg, Ind. |
| William Rhudy | BS | English | North Manchester, Ind. |
| Piero Ridoutt | BA | Communication Studies | Warsaw, Ind. |
| Alma Rodriguez | BA | Political Science | Goshen, Ind. |
| Jessamy Rogers* | BS | Mathematics/Physics | North Manchester, Ind. |
| Jason Scheuer | BS | Economics | Warsaw, Ind. |
| Veronica Schilb** | BS | Political Science | Fort Wayne, Ind. |
| Luke Schroeder | BS | Educational Studies | Westfield, Ind. |
| Joshua Schwartz | BS | Management | Anderson, Ind. |
| Abigail Schwendeman* | BS | Early-Mid Education/Mild Int. | Warsaw, Ind. |
| Micah Seidner | BS | Management/Marketing | Montpelier, Ind. |
| Kailin Sewell | BS | Communication Studies | Fort Wayne, Ind. |
| John Sharp | BS | Management | Indianapolis, Ind. |
| Erin Shay* | BA | 5-12 English/Language Arts | Mishawaka, Ind. |
| Jay Sheets | BS | Early-Mid Education | Goshen, Ind. |
| Edward Shei* | BA | Political Science | Hanna, Ind. |
| Beau Shenefield | BS | Sport Management | Lafontaine, Ind. |
| Pooja Shrestha | BS | Accounting/Finance | Kathmandu, Nepal |
| Harrison Sibert* | BS | Psychology | North Manchester, Ind. |
| Matthew Siegel | BS | Economics | Fort Wayne, Ind. |
| Garrett Singer | BS | Accounting | Cambridge City, Ind. |
| Amber Skelton* | BS | Psychology | Westville, Ind. |
| Sheridan Slagle | BS | Communication Studies | New Castle, Ind. |
| Corbin Smith | BS | 5-12 Social Studies | Auburn, Ind. |
| Jennifer Smith | BS | Athletic Training | Fort Wayne, Ind. |
| Dylan Snyder | BS | Management/Marketing | Greenfield, Ind. |
| Margaret Squires*** | BA | Chemistry | Fort Wayne, Ind. |
| Alexandra Starkey | BS | Accounting | New Haven, Ind. |
| Whitley Starnes** | BS | Early-Mid Education | Fort Wayne, Ind. |
| Kristine Staton | BS | Early-Mid Education/Mild Int. | West Lafayette, Ind. |
| Megan Stephens | BS | 5-12 English/Language Arts | Peru, Ind. |
| Chelsie Stout | BS | Sport Management | Rockville, Ind. |
| James Stuart | BA | Peace Studies | Mount Vernon, Ohio |
| Courtney Suter | BS | Environmental Studies/Biology | South Bend, Ind. |
| Ryne Sweeney | BS | Sport Management | Walkerton, Ind. |
| Benjamin Tapper | BA | Political Science | Hobart, Ind. |
| Brian Tarnowski | BS | Management/Marketing | Roanoke, Ind. |
| Ashley Tate | BS | 5-12 Social Studies | Bippus, Ind. |
| David Tatham | BS | Accounting | Nashville, Ind. |
| Rebecca Tepes* | BA | Management | Knox, Ind. |
| Christopher Thomas* | BA | Political Science | Alexandria, Ind. |
| Kelsie Thornburg | BS | Sociology | Cutler, Ind. |
| John Topsoglou | BS | Environmental Studies | Fort Wayne, Ind. |
| Andrew Totheroh | BS | Fitness & Sport Management | Crawfordsville, Ind. |
| Matthew Trentman* | BS | Environmental Studies | Delphos, Ohio |
| Kristin Tritch | BS | Educational Studies | Hudson, Ind. |
| Casey Vallier | BA | Communication Studies | Noblesville, Ind. |
| Ha Vu | BS | Finance/Accounting | North Manchester, Ind. |
| Samantha Wade | BS | Accounting | Harvest, Ala. |
| Brittney Wagler | BS | Exercise Science | Morgantown, Ind. |
| Carrie Waits | BA | Environmental Studies/Biology | Goshen, Ind. |
| Joshua Walker | BS | Management/Marketing | Columbia City, Ind. |
| Ryan Wallace | BS | Chemistry | Noblesville, Ind. |
| Justin Weber | BS | 5-12 Social Studies | Avilla, Ind. |
| Emma Weiler | BS | Exercise Science | Auburn, Ind. |
| Kira Wennerholm* | BS | Management | Iowa City, Iowa |
| Kayla Werbianskyj | BA | Environmental Studies/Biology | Elkhart, Ind. |
| Robert Wertz | BS | Environmental Studies | North Manchester, Ind. |
| Devan Whitaker | BS | Early-Mid Education | North Manchester, Ind. |
| Kyle Whonsetler | MAT | Athletic Training | LaOtto, Ind. |
| Kristen Wilhite | BS | History | Crawfordsville, Ind. |
| Charles Wilk | BS | Marketing/Management | Valparaiso, ind. |
| Elizabeth Winey | BS | Exercise Science | Chesterton, Ind. |
| Robyn Woeste | BA | History | Vevay, Ind. |
| Alec Womboldt | BS | Biology-Chemistry | Dewitt, Mich. |
| Christine Woodard | BS | Environmental Studies | Indianapolis, Ind. |
| Micaela Wynkoop | BS | Accounting/Management | Thorntown, Ind. |
| Carol Yanez | BA | Communication Studies | North Manchester, Ind. |
| Kayla Zehr | BS | Biology-Chemistry | Goshen, Ind. |
| Katelyn Zuber | BS | English | Greenfield, Ind. |


Commencement 2012
Video Online
President Switzer
Graduate Reflections
Herbert Chinworth '42x
Natalie E. Collar '12
President Switzer