The Class of 2013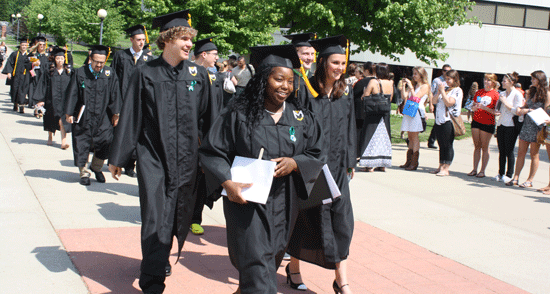 2013 graduates: Share your Manchester
experience to make the world better


"That's my girl!" The mom's proud shoutout as her daughter received her Manchester University diploma was joyfully embraced by 2,500 Graduation Day celebrants of the Class of 2013.

Applause and cheers greeted recipients of 262 bachelor degrees, two associate degrees, 11 Master of Education degrees and four Master of Athletic Training degrees at the May 19 ceremony. A total of 43 graduates wore gold cords designating their degrees are "with honors."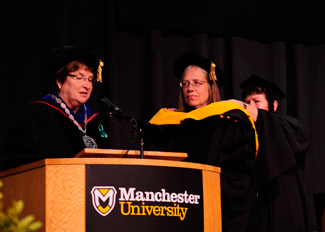 The University also awarded a Doctor of Science honorary degree to solar physicist Sarah Kurtz, a principal scientist for the U.S. Department of Energy's National Renewable Energy Laboratory. The 1979 Manchester physics and chemistry graduate is internationally recognized for her ground-breaking research in super-efficient solar cells for powering homes, businesses and even satellites and Mars rovers.

True to her Manchester roots, Kurtz challenged the graduates to use their interests and talents to solve problems. It was a common theme throughout the day as speakers urged graduates to share their abilities and convictions garnered at Manchester to make the world a better – and more hospitable – place.

"At its core, hospitality means being kind to strangers," said President Jo Young Switzer. "It means welcoming those who might not be welcomed by others – people with skin color or religious beliefs different than ours, people with more piercings than we like, people whose mental illness or memory loss makes them act inappropriately."

Hospitality takes courage and strength, Switzer warned. "Small changes in our lives, cultivated over time, can reshape us and our communities."

Students and their parents (and grandparents) thanked faculty and staff who had helped them and their students along the Manchester journey.

"I have seen that each person here has a unique set of abilities and spiritual gifts that you've developed through the pursuit of knowledge and through actions toward others," physics major Dylan T. Ford of Tipton, Ind., told the graduating class at Baccalaureate service. "I've learned not to be so proud to think that I can function without relying on the rest of you, so thank you for being that support."

Yousra Kamoona left Baghdad, Iraq, four years ago to embark on a Manchester education. While her journey began timidly, she soon was stepping boldly into friendships, academic challenges and campus life.

"Do not be afraid of change, change is good. If it is not good, then change it," advised Kamoona, a computer science major. "Do not think of change and differences as having to change yourself … think of it as discovering more about yourself and adding more to your experiences. Be willing to see it, accept it, and embrace it."

Just as the graduates and their families shared their appreciation, their Manchester "support system" of faculty and staff and coaches echoed President Switzer's final words of the day:

"Thank you for choosing Manchester. We are stronger because you have been here."


Class of 2013
***summa cum laude **magna cum laude *cum laude


| | | | |
| --- | --- | --- | --- |
| Graduate | Deg. | Major | Hometown |
| Raleen Abrams | BA | Educational Studies | Elwood, Ind. |
| Anisa Adam | BA | Accounting, Finance | North Manchester, Ind. |
| Tyler Adams | BS | Education | Silver Lake, Ind. |
| Bashar AlGharabeh | BS | Finance | Ramallah, West Bank |
| Daniel Allen | BS | Communication Studies | Fort Wayne, Ind. |
| Dylan Alltop | BS | Management, Finance | Clayton, Ind. |
| Brenna Auker | BS | History, Computer Science | Elkhart, Ind. |
| Cho Aung* | BS | Biology-Chemistry | Fort Wayne, Ind. |
| Brandon Baccari | BS | Biology-Chemistry | Fort Wayne, Ind. |
| Leslie Bailey | BS | Educational Studies | Ogden Dunes, Ind. |
| Zeth Baker | BS | Management | Waterloo, Ind. |
| Nicolas Balmoria | BS | Computer Science | Fort Wayne, Ind. |
| Nicolas Barbknecht | BS | Accounting | Indianapolis, Ind. |
| Sara Barker | BA | Chemistry | Goshen, Ind. |
| Kristen Barker* | BS | Biology-Chemistry | Decatur, Ind. |
| Kathleen Barnes* | BA | Social Work | Sturgis, Mich. |
| Daniel Barr | BS | Biology | Pierceton, Ind. |
| Andrew Barrand | BS | Education | Fort Wayne, Ind. |
| Stephanie Barras | BA | English | Indianapolis, Ind. |
| Kelsey Barta | BS | English | Hammond, Ind. |
| James Barth | BS | History | Chesterton, Ind. |
| Megan Batten | BA | Biology-Chemistry | LaPorte, Ind. |
| Alice Bayingana | BA | Biology-Chemistry | Kigali, Rwanda |
| Chaz Bellman | BS | Communication Studies | Elkhart, Ind. |
| Dorothy Bennett | MED | Education | Fairmount, Ind. |
| Luke Bentley | BS | Health, Physical Education | Chicago, Ill. |
| Ashlie Biddle* | BA | History | Wolcottville, Ind. |
| Kelsie Biglin | BS | Biology | Monroeville, Ind. |
| Megan Birky | BS | Social Work, Sociology | Kouts, Ind. |
| Sarah Blake* | BS | Education | Plymouth, Ind. |
| Thomas Blake*** | BA | Accounting, Economics | Plymouth, Ind. |
| Ann Blanton | BA | Biology-Chemistry | South Whitley, Ind. |
| Zackary Boger | BS | Athletic Training | Garrett, Ind. |
| Brandon Bohrer | BA | Peace Studies | South Bend, Ind. |
| Joshua Brameier | BS | Mathematics Education | Shelbyville, Ind. |
| Matthew Brian | BS | Life Sciences Education | Mattawan, Ind. |
| Andrew Brisbin | BS | Exercise Science & Fitness | Wabash, Ind. |
| Shelley Brubaker | BS | Management | Wabash, Ind. |
| Seth Brunner | BS | Athletic Training | Huntington, Ind. |
| Jonathon Burtoft | MAT | Athletic Training | Warsaw, Ind. |
| Alma Butts | BA | Biology-Chemistry, Spanish | Osceola, Ind. |
| Todd Byrket | BS | Biology, Psychology | Wakarusa, Ind. |
| Geneva Carney | MED | Education | Fort Wayne, Ind. |
| Bailey Carpenter | BS | Social Studies Education | Crawfordsville, Ind. |
| Katherine Clark | BA | Psychology | North Manchester, Ind. |
| Benjamin Cloud | BS | Biology | Winamac, Ind. |
| Carol Collett | MED | Education | North Manchester, Ind. |
| Zachary Collins | BS | Exercise Science & Fitness | Anderson, Ind. |
| Calvin Cook* | BS | Exercise Science & Fitness | Plymouth, Ind. |
| Amanda Cooper | BS | Biology-Chemistry | New Haven, Ind. |
| Meredith Cors* | BA | Psychology | Elkhart, Ind. |
| Aaron Cotner | BS | Environmental Studies, Biology | Logansport, Ind. |
| Zackarie Coulter | BS | Management | LaPorte, Ind. |
| Shelby Covington* | BA | English, French | Indianapolis, Ind. |
| Benjamin Crim** | BA | Accounting | Dayton, Ohio |
| Allison Cruse | BS | Psychology | Portage, Ind. |
| Elizabeth Curtis | BS | Education | Parker City, Ind. |
| Taylor Daggett*** | BA | Exercise Science & Fitness | Cincinnati, Ohio |
| Danielle DeFries | BS | Life Sciences Education | Kouts, Ind. |
| Audrey Deitrich | BS | Biology | Logansport, Ind. |
| Evan Denari | BS | Sport Management | Carmel, Ind. |
| Emily Densel | BA | Art | Delphos, Ohio |
| Kaitlyn Dewitt | BS | Psychology | Anderson, Ind. |
| Alyssa Dibley* | BS | Psychology, Social Work | Elkhart, Ind. |
| Dante Dinkins | BS | Educational Studies | Hammond, Ind. |
| Tracie Doi | BS | Social Work | Granger, Ind. |
| Alexander Drew | BS | Music | Howell, Mich. |
| Kaitlin Eads | BS | Management | Mentone, Ind. |
| Jason Eakins | BS | Chemistry | Churubusco, Ind. |
| Matthew Ellis* | BS | Biology-Chemistry | Bristol, Ind. |
| Melissa Eltzroth | BS | Exercise Science & Fitness | North Manchester, Ind. |
| Kyle Evans | BS | Health, Physical Education | North Manchester, Ind. |
| Felicia Fahey | BS | Accounting, Marketing | Wheatfield, Ind. |
| Matthew Fanning | BS | Exercise Science & Fitness | Greenwood, Ind. |
| Michael Fansler | BS | Sport Management, Marketing | Walkerton, Ind. |
| Joshua Fase | BS | Sociology | North Judson, Ind. |
| Cory Feltner | BS | Computer Science | Huntington, Ind. |
| Teirenney Fincher | BS | Social Work | Fort Wayne, Ind. |
| Morgan Finke | BS | Marketing, Management | Indianapolis, Ind. |
| Keyana Fitzpatrick | BA | Social Work | Merrivllville, Ind. |
| Dylan Ford | BS | Physics | Tipton, Ind. |
| Scott Fox | BA | History | Greenwood, Ind. |
| Forrest France | BS | Environmental Studies, Biology | Fort Wayne, Ind. |
| Cody Freels* | BS | Life Sciences Education | Auburn, Ind. |
| Matthew Frieden | BS | Biology-Chemistry | Wabash, Ind. |
| Todd Fry | BS | History | Logansport, Ind. |
| Nathan Gage | BS | Management, Marketing | Granger, Ind. |
| Jordan Garber | BS | Psychology | Vandalia, Mich. |
| Estefania Garces | BS | Biology-Chemistry | Elkhart, Ind. |
| Barbara Garcia | AA | Education | South Milford, Ind. |
| Barbara Garcia | BS | Educational Studies | South Milford, Ind. |
| Megan Garstka | BA | Biology-Chemistry | New Haven, Ind. |
| Lauren Gazdick | BS | Accounting | LaPorte, Ind. |
| Thomas Gillam | BS | Exercise Science & Fitness | Flora, Ind. |
| Goretti Gonzalez | BS | English | Warsaw, Ind. |
| Andrew Graber** | BS | Education | Goshen, Ind. |
| Kenneth Green | BS | Marketing | Portage, Ind. |
| Lynette Griffin | BA | Comm. Studies, Sport Mgmt. | Monon, Ind. |
| Stephanie Griffith | BA | Education | Avilla, Ind. |
| Olan Griffiths | BS | Sociology | Kendallville, Ind. |
| Collin Grogan | BS | Fitness & Sport Management | New Castle, Ind. |
| Kay Guyer*** | BS | Peace Studies | Woodbury, Pa. |
| Cameron Haley | BS | General Business | Lafayette, Ind. |
| Megan Hammel | BS | Health, Physical Education | Goshen, Ind. |
| Annie Harrell | BS | Psychology | Huntington, Ind. |
| Taylor Harris** | BS | Athletic Training | Huntington, Ind. |
| Alissa Hart | BS | Philosophy | Fort Wayne, Ind. |
| Amy Hayden | BS | Education | North Manchester, Ind. |
| Alli Heeter | BS | Chemistry | Nappanee, Ind. |
| Matthew Helm* | BS | Biology | Elwood, Ind. |
| Kate Helm*** | BA | Education | Elkhart, Ind. |
| Trevor Herrli | BS | Exercise Science & Fitness | Elkhart, Ind. |
| Margaret Hess | BS | Political Science, Psychology | South Hadley, Mass. |
| Jeramey Hicks | BS | Marketing, Political Science | West Lebanon, Ind. |
| Whitnee Hidalgo | BS | Sociology | Saint Clair, Mich. |
| Morgan Hill | BS | Environmental Studies | Carmel, Ind. |
| Dylan Hiner* | BS | Psychology | Wabash, Ind. |
| Melody Hoffer | BS | Education | Warsaw, Ind. |
| Charles Holmquest | BS | Exercise Science & Fitness | Plymouth, Ind. |
| Cheyenna Holt | BA | Psychology | Bedford, Ind. |
| Amanda Hoover | BS | Accounting | Warsaw, Ind. |
| Ian Hoover | BS | Political Science | Huntington, Ind. |
| Jenny Howard | MED | Education | North Manchester, Ind. |
| Danielle Howell | BS | Exercise Science & Fitness | Denver, Ind. |
| Brianna Huff | BS | Educational Studies | Huntington, Ind. |
| Benjamin Jabobs | BS | Marketing | Laketon, Ind. |
| Laura Jenkins | BS | Environmental Studies | Sellersburg, Ind. |
| Jennifer Jenkins | MED | Education | Huntington, Ind. |
| Derek Jones | BS | Psychology | Danville, Va. |
| Yousra Kamoona | BS | Computer Science | Baghdad, Iraq |
| Simon Peter Kateregga | BS | Computer Science | Kampala, Uganda |
| Garrett Kautz | BS | Accounting | LaPorte, Ind. |
| Brecken Kennedy | BS | Environmental Studies | North Manchester, Ind. |
| Bailey Killinger | BS | Social Work | Fishers, Ind. |
| Christopher Kimmel | BS | Management | Eaton, Ohio |
| Jordan Kinn*** | BA | Education | Hicksville, Ohio |
| Amanda Kirts | BS | Medical Technology | Elkhart, Ind. |
| Rachel Kloentrup | MAT | Athletic Training | Morning View, Ky. |
| Denis Knuth | BS | Social Studies Education | Fort Wayne, Ind. |
| Kyle Konarski | BS | Management, Marketing | Elkhart, Ind. |
| Angelika Konik | BS | Management, Marketing | Des Plaines, Ill. |
| Ashley Kopla | BS | Chemistry | Valparaiso, Ind. |
| Peter Kowalczyk* | BS | Ath. Training, Ex. Science, Fitness | Chicago, Ill. |
| Tyler Krempasky | BS | Sport Management | South Bend, Ind. |
| Robert Krisch | BA | Accounting | South Bend, Ind. |
| Erika Ksiezopolski | BS | Educational Studies | Claypool, Ind. |
| Jennifer Kuepper | BS | Social Work | Peru, Ind. |
| Andrew Kurtz*** | BA | Psychology | Plymouth, Ind. |
| Sean Langley | BS | Biology, Environmental Studies | Tipton, Ind. |
| Kelsey Lantz | BA | Psychology | Wakarusa, Ind. |
| Rachael Larson | BS | Management | Pierceton, Ind. |
| Laura Lichauer | BS | Marketing | Wakarusa, Ind. |
| Joshua Lofton | BS | Marketing, Management | Indianapolis, Ind. |
| Alyssa Loos | BS | Physics | Fort Wayne, Ind. |
| Todd Lortie | MED | Education | Laotto, Ind. |
| Kelley Love | BS | Biology-Chemistry | Saint Louis, Mo. |
| Jennifer Maciejewski | AA | Education | North Manchester, Ind. |
| Amy Maciejewski | BS | Political Science | Hammond, Ind. |
| Karla Madrigal* | BS | Biology-Chemistry | Elkhart, Ind. |
| Brooke Mahrenholz | BS | Educational Studies | Vernon Hills, Ill. |
| James Manis | BA | Management | Merrillville, |
| Corey Marchant | BS | Biology-Chemistry | Prosper, Texas |
| Gay Maria | BA | Political Science | Fort Wayne, Ind. |
| Adam Marlatt | BA | Education | Kouts, |
| Ryan Marshall | BS | Education | Laotto, Ind. |
| Deidra Martin | BS | Exercise Science & Fitness | Indianapolis, ind. |
| Abbey Mault | MED | Education | Kimmel, Ind. |
| Gabrielle McAfee | BS | History | Columbia City, Ind. |
| Caleb McAfee | BA | Psychology | Ossian, |
| Carson McFadden | BA | English | Elgin, Ill. |
| Ryan McKee | BS | Accounting | Elkhart, Ind. |
| Caitlynn McKinney | MED | Education | Brazil, Ind. |
| Amber Melick* | BS | Biology, Environmental Studies | Geneva, Ind. |
| Lee Melling | BS | Exercise Science & Fitness | Elkhart, Ind. |
| Edward Mendez | BS | Management | Pembroke Pines, Fla. |
| Matthew Mest* | BS | Management | Bloomington, Ind. |
| Aron Miller | BS | Exercise Science & Fitness | Wolcottville, Ind. |
| Justin Miller | BS | Biology-Chemistry | Bristol, Ind. |
| Kathryn Miller* | BA | Early/Mid Chldhd Generalist | Winchester, Ind. |
| Cameron Miser | BS | Exercise Science & Fitness | Fort Wayne, Ind. |
| Dorehyl Mobley | MED | Education | North Manchester, Ind. |
| Abdikadir Moburuk | BS | Educational Studies | Fort Wayne, Ind. |
| Kurt Monix | BS | Marketing, Management | Crown Point, Ind. |
| Kathryn Moore | MED | Education | Rochester, Ind. |
| Craig Morphew | BS | Physics | Goshen, Ind. |
| Matthew Morris | BS | History | Bellefontaine, Ohio |
| Bradley Murphy* | BS | Economics | Fort Wayne, Ind. |
| Kibirige Nattabi | BS | Economics | Kampala, Uganda |
| Braden Nelson | BS | Sociology | Angola, Ind. |
| Chelsea Newcomer | BS | Psychology | Elkhart, Ind. |
| Sarah Newkirk | BS | Education | Lakeville, Ind. |
| Connor Nickell | BS | Management, Marketing | Walkerton, Ind. |
| Abby Niederman* | BA | English | Huntington, Ind. |
| Rachel Nowak | BS | Education | Crown Point, Ind. |
| Jamie Osborne | BA | Marketing | Garrett, Ind. |
| Steven Otis | BS | Health, Physical Education | Huntertown, |
| Samuel Ott*** | BS | Religion | Churubusco, Ind. |
| Sydney Oukrop | BS | Biology-Chemistry | Maineville, Ohio |
| Dean Ousley | BS | Sport Management | Peru, Ind. |
| Cory Overmyer | MAT | Athletic Training | Rochester, Ind. |
| Holly Pawlak | BS | English | Elkhart, Ind. |
| Brandon Pawloski | BS | Accounting, Finance | Michigan City, Ind. |
| Ian Petty | BS | Finance | Livonia, Mich. |
| Ashley Piatt | BS | Educational Studies | Rensselaer, Ind. |
| Jeremy Pogorzelski | BS | Management | Crown Point, Ind. |
| Sheila Prather | BS | Social Work | Denver, Ind. |
| David Prokop | BS | Sport Management | Fort Wayne, Ind. |
| Dian Radev | BA | Management, Marketing | Burgas, Bulgaria |
| Jordan Redding | BS | Athletic Training | Fort Wayne, Ind. |
| Leigh Reed | BS | Exercise Science & Fitness | Huntington, Ind. |
| Kourtney Reed | BA | Political Science, Peace Studies | Bluffton, Ind. |
| Amber Resor | BA | Social Work | Troy, Ohio |
| Matthew Rezutko | BS | Computer Science | Elkhart, Ind. |
| Elizabeth Rhoades | BS | Social Work | Goshen, Ind. |
| Austin Rieke | BS | Economics, Finance | Fishers, Ind. |
| Jessica Rinehart | BA | Communication Studies | Granger, Ind. |
| Turner Ritchie | BS | Peace Studies | Richmond, Ind. |
| Crystal Rodriguez | BA | Management | Orland, Ind. |
| Kyle Rosenbaum | BS | Accounting | LaPorte, Ind. |
| Ashley Roth** | BA | Early/Mid Chldhd Generalist | Goshen, Ind. |
| Maranda Rude | MAT | Athletic Training | Liberty, Ind. |
| Emma Sabinske*** | BS | Education | Warren, Ind. |
| Nicholas Salupo* | BS | Athletic Training, Biology-Chemistry | Indianapolis, Ind. |
| Lesley Sammons | BS | Psychology, Sociology | Bargersville, Ind. |
| Miranda Scher* | BA | Athletic Training | Columbia City, Ind. |
| Alison Schlotfeldt | BS | English Education | Elkhart, Ind. |
| Rebekah Scoles | BA | Sociology | Noblesville, Ind. |
| Justin Scott | BS | Sport Management | Fort Wayne, Ind. |
| Matthew Servizzi | BS | Exercise Science | Loveland, Ohio |
| Lucas Shelly | BA | Chemistry | Goshen, Ind. |
| Shayla Shirk | BS | Mathematics Education | North Manchester, Ind. |
| Nancy Shitakha | BS | Management, Marketing | Kampala, Uganda |
| Darren Slater | BS | Athletic Training | Bloomington, Ind. |
| Anthony Smith | BS | Adapted Physical Education | Chesterton, Ind. |
| Ariel Smith | BS | English | North Manchester, Ind. |
| Charles Snyder | BS | Marketing | Goshen, Ind. |
| Jared Snyder | BA | English | Ellettsville, Ind. |
| Leigh Soderlund | BS | Psychology | Plymouth, Ind. |
| Brett Spack | BS | Athletic Training | Indianapolis, Ind. |
| Jason Spindler | BS | Sport Management | Harlan, |
| Jessica Stafford* | BS | Psychology | Avon, |
| Brittany Stevens* | BA | Early/Mid Chldhd Generalist | South Bend, Ind. |
| Jenny Stiffler | MED | Education | Akron, Ind. |
| Lisa Stojanovich | BA | Marketing | Hobart, Ind. |
| Natalie Szymkowski | BA | Spanish, History | LaPorte, Ind. |
| Heather Talley | BA | Exercise Science & Fitness, Athletic Training | Valparaiso, Ind. |
| Christopher Teeters | BS | Music | Fort Wayne, Ind. |
| Kristen Tentler* | BS | Biology-Chemistry | Pendleton, |
| Clorinda Tharp*** | BS | Education | Winchester, |
| Kathleen Thayer | BS | Accounting | Elkhart, Ind. |
| Samantha Thumpston | BA | Sociology | Middletown, Ind. |
| Rodney Tigaa | BS | Chemistry | Navrongo, Ghana |
| Cori Timmons | BS | Educational Studies | Valparaiso, Ind. |
| Sarah Tobola | BA | Exercise Science & Fitness | London, Ontario |
| Brittney Tremaine | BS | Sociology | Plymouth, Ind. |
| Kameron Troxell* | BS | Mathematics | Fort Wayne, Ind. |
| Jeffrey Turner | BS | Management | Shelbyville, |
| Chad Ulmer | BS | Social Work | Bourbon, |
| Jonathan Ulrich** | BA | Peace Studies, Philosophy | Richmond, Ind. |
| Joshua Vardaman | BS | English | Middletown, |
| Brooke Waddups | BS | Ath. Training, Ex. Science, Fitness | Logansport, |
| Stacey Ward | BS | Marketing | West Milton, Ohio |
| Hayley Weagant** | BA | Exercise Science & Fitness | Chico, Calif. |
| Kimberlee Weaver | BS | Communication Studies | Mishawaka, |
| Lauren Weaver* | BA | Marketing | Elkhart, Ind. |
| Cassandra Whitaker | BS | Music | Beavercreek, Ohio |
| Kellen Wilkening | BS | Accounting | Fort Wayne, Ind. |
| Thonsend Willits | BS | English | Goshen, Ind. |
| Jessica Wilmer | BS | Accounting, Finance | Whiteland, |
| Bethany Wilson | BS | Communication Studies | Cincinnati, Ohio |
| Stephanie Wilson | BS | Psychology | Butler, Ind. |
| Bryan Wiltfong | BS | Sociology | New Carlisle, Ind. |
| Alex Windbigler | BS | Educational Studies | Knox, Ind. |
| Kayla Wiseman** | BA | Education | Morocco, Ind. |
| Corrine Wolpert** | BS | Education | Decatur, Ind. |
| Kayla Yates | BS | Education | Delphi, Ind. |
| Tiffany York | BS | Biology | Richmond, Ind. |
| Gisele Youth | BS | Biology-Chemistry | Addis Ababa, Ethiopia |
| John Zickmund | BS | Physics | Medaryville, Ind. |


Commencement 2013
Video Online
Baccalaureate
Meditation
Graduate Reflections
Class of '12 Response
Charge to Graduates