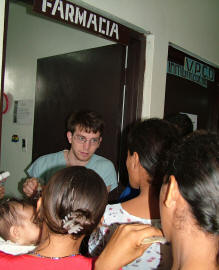 I've always felt comfortable here at Manchester. As a small town, Church of the Brethren, aspiring hippie from Maryland, I think it took an entire 2½ hours before I fit right in to this unassuming Indiana paradise. I was quickly welcomed into an accepting community that understood and shared my values of social responsibility, my dreams for a just world, and my penchant for intellectual stimulation. But while I knew I belonged here, I didn't know how much this place would help me grow.
We're often told we need to move outside our comfort zone. However, I think that comfortable places can be the best places in which to grow. The comfort of a supportive community provides a safe space to explore what's uncomfortable, to take risks, and to fail. I was asked questions … who am I and why, what do I believe and why, what do I want to do with my life and why. I was consistently urged to explore leadership qualities I didn't know I had, and I was challenged academically. Exploring myself, developing unearthed gifts, and studying a lot wasn't easy, but I found joy in these challenges … because I was in the presence of people who cared. The persistent prodding of my community combined with my commitment to become better helped me grow and made me happy.
But Manchester wouldn't let me stay comfortable for all four years. A summer internship in Washington, D.C., introduced a white country boy to the big city. I had thought I knew what it meant to embrace diversity until I was the minority. It was scary and uncomfortable. I taught English and studied Spanish in remote Guatemala and met solitude for the first time in my life. In Ecuador, the bursting idealism I carried into college withered a little more each time I told a homeless child I didn't want to buy any gum. I patiently struggled with frustrations of expressing myself, making friends, and studying in a foreign language. As I faced challenges in the absence a community I had once taken for granted, I began to flirt with cynicism.
When I returned to Manchester I had to figure out how a new person fit into familiar places. Reverse culture shock was hard, but before long I was comfortable again. I was reacquainted with community, big trees, and the English language. I soon was able to balance the pessimism I found in Ecuador with the infectious optimism that I have always experienced here.
When I leave this place again I'll take with me a peace studies/Spanish degree, a cultivated confidence, a collage of rich memories, and the gifts of pervasive joy and meaningful friendship. I will continue to seek out comfortable and uncomfortable spaces that provide a balance between painful challenges and growth within a supportive community. I knew I was in the right place when Manchester gave me both.
Photo: Ben Leiter served with the January 2006 Medical Practicum in Nicaragua