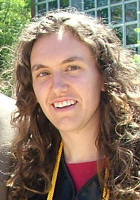 When Jim Chinworth, the campus pastor, asked me to speak at baccalaureate, I was hesitant to say yes for two reasons.
First, I've learned while at Manchester that one should always be cautious when saying yes to a pastor. They are on the side of God and are sneaky, and if you aren't careful, you may find yourself on a plane to a country you've never heard of in Africa. Be warned, friends: It happened to me, and it could happen to you.
Secondly, I was nervous about the topic: What have I learned at Manchester College and what will I carry with me as I leave this place? As I reflected on these last four years, I realized that I have learned much here and that I have changed in ways that I will carry with me for a long time. I also realized that synthesizing those experiences would create precisely the type of speech that one does not give at baccalaureate.
Over these last four years, I've seen a lot. If there is one thing that Manchester has been good at, it's getting me off the campus. Through classes and school-sponsored grants, I've traveled literally around the world; learning, working, and studying in 10 different countries spread across five continents. I've been to the edges of the earth and what I've seen there isn't good.
While in Northern Ireland, I saw the street corners where youth gather on warm summer nights to burn bonfires of destruction, caught up in a tradition of hatred and frustration. I walked by the hospitals surrounded by chain-linked fences that can't be built high enough to keep out the handmade bombs that are thrown over the top.
Daily during my semester abroad in Ecuador, I walked by starving children begging in the streets, on my way to a university where the majority of the students drove BMWs to school.
I did get on that plane to Togo and Benin in Africa and spent a week listening to the stories of women so abused and trapped by their families, society, and government that they wake up each morning wondering if they and their children will survive the day.
I worked alongside fully competent Nicaraguan doctors who had to watch their patients suffer from fully treatable complaints; their hands of healing stopped by the empty pharmacies. They wait on medicines held up because of choices of my government and theirs.
In Thailand, I worked at a leprosy hospital and held people dying of diseases that have been cured for decades, but who are trapped living as shadows in a society that is not ready to admit that they can be healed.
In these last four years, I have seen in every county and continent, in every hut and skyscraper, in the faces of every person I've met, stories of fear, pain, and doubt. And while all the travel has given me a nice passport stamp collection, I never would have had to leave this campus to see any of it.
I was here when calls and letters of hate got sent to my lesbian, gay, and allied sisters and brothers, threatening their place on this campus.
I was here when U.S. forces invaded Iraq – making some people stand up in protest and others pack their bags as their reserve number was called – and all of us were hurt, confused, scared.
It was here that I held friends who were struggling with illnesses that threatened to overcome their minds as well as their bodies, making them question their self-worth and the worth of life.
It was here that close friends betrayed me so deeply that I questioned the worth of trust and relationship, and it was here that time and time I let others down, failing to live up to the faith they had in me.
I was here as the banner proclaiming peace was ripped down and burned on our mall in a confusing act of vandalism and hatred.
I was here, and I know you were too.
In the last four years, I've born witness to a force that is as elusive as it is omnipresent; a force that seems to tear things down as fast as we can build them up. From Chiang Mai to Garver Hall, I've watched fear grow and destroy, threatening to overcome us. For four years I've fought entropy and helplessness and I am tired. How I Came to Manchester, Got Smacked in the Face with Reality, Became Bitter and Burnt out on Life, however, just did not seem like the right title for a speech to give on a day such as today.
Fortunately, while I was in the middle of these reflections, a friend, a mentor, and one of my four (yes four) academic advisors here at Manchester College, introduced me at a banquet and publicly called out in me a talent for joy. In a time when I saw my soul as a desert, she saw a spring and life. Thank you, Dr. Lynne Margolies. As I sat, trying to reconcile these two views of me, I realized that everything I have said up to this point is exactly true, but I also realized that my story doesn't end here. As I sat, I learned what else I've learned at Manchester College.
In his speech, We Are the Ones that We Have Been Waiting For, Jim Wallace of Sojourners Magazine said that as he was growing up, his evangelical Christian community taught that the biggest challenge he would ever have to face, the biggest choice of his life, would be that between secularism and belief – between immorality and morality. But he has found – and I agree – that the greatest struggle of our times, the biggest choice we will have to make, is that between cynicism and hope. This is how my story for today ends: While I've been at Manchester College, I have learned how to choose hope.
I can pick up the newspaper and find all sorts of things to be cynical about: growing threats of nuclear arms in Iran, rising suicide bombing, a bird pandemic that will kill us all. Sound bytes smear the airways, reporting that the world is not as it should be. But I can also go outside and watch people play Frisbee on the mall, trying very hard – most of the time – not to step on the roses. I catch glimpses of campus and community that, at times, is exactly how it should be, and I choose hope.
This Hope is not an idealistic dream. It is not a comfortable feeling of naivety and it is not wishful thinking. It is decision, a conscience choice, and a way of life.
So long as peace studies and accounting can bring their differences to the basketball court to raise food for the food pantry, I will choose hope.
So long as the Dr. Planer swears that world peace can come by listening to the string quartets and Beethoven, I will choose hope.
So long as we keep our curiosity, I will choose hope.
So long as we can gather together when we are hungry to eat soup, sometimes made by our own College President, I will choose hope.
So long as we hold the silences sacred as times to listen – to others, to ourselves, to God – I will choose hope.
So long as we plant gardens, I will choose hope.
So long as the Music Department teaches that the rests are part of the music, I will choose hope.
So long as there are professors who put chrome toilets on the steps of their students' houses, and students who know how to break into the Ad Building to fill their professors' offices with oak leaves, I will choose hope.
So long as we eat cheesecake to raise money for those who need it most, I will choose hope.
So long as some of us keep traveling and some of us stay here to tend the flame, I will choose hope.
So long as we continue to search for God and meaning in Bible study, in community, in shared meals, in hot buttered popcorn, I will choose hope.
So long as Dave Good makes us sing to the flowers while we're weeding, I will choose hope.
So long as our Science Department finds ways to run the lawn mowers off the left-over grease from the Union, I will choose hope.
So long as we continue to say yes to our pastors and faith communities, I will choose hope.
So long as our professors and staff continue to pretend to be a rock band, I will choose hope.
So long as we continue to be awakened by the bells, so long as we continue to complain about (and maybe even learn from) convo, so long as we continue to chase the squirrels, so long as we continue to do the things that make us uniquely us, I will choose hope.
So long as we continue to get up in the mornings, even and especially after those nights that leave our souls bruised and battered, I will choose hope.
I've spent four years here, and I have seen, experienced and been a part of deep suffering in this world. But I've also spent four years seeing, experiencing, and being a part of this community and have witnessed what you all have to offer. We have the conviction and the capability that we need to ease the pain. We are the ones that we have been waiting for. We are the answers to our own prayers for change.
What I've learned at Manchester College is this: how to have the faith, ability, and courage to see Light in a world that is so often dark.
Soon I will leave to go very far away, and this is what I will carry with me: Because I knew you, because I've seen what you can do, and because I know every day that you'll get up and keep doing it, I will choose hope.