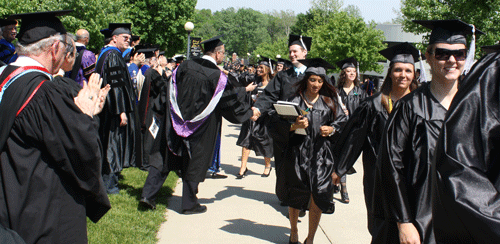 Accounting Professor Brad Pyrah shakes hands with Brian Liffick of LaPorte, Ind.
Manchester's latest graduates embark,
vowing to 'make a difference'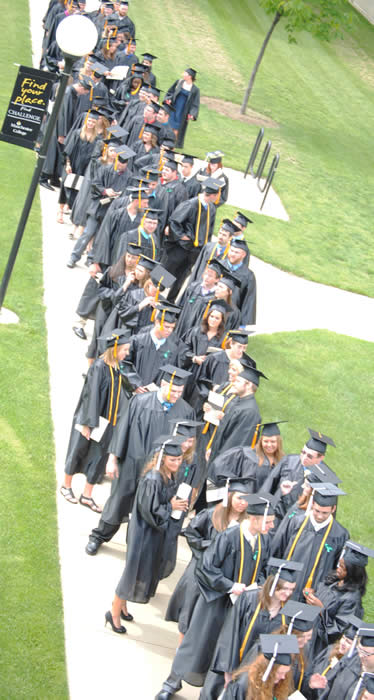 "Set a conscious motto for yourself, and trust your intuition about your journey," Janis Clark '69 Johnston advised the Class of 2011 at Manchester College's 122nd commencement on Sunday, May 22. Johnston, who with the estate of her late husband, Mark Johnston '68, generously supports the entrepreneurship program at their alma mater, was among 199 to receive degrees.

"But what new venture or idea will you envision now? What entrepreneurial efforts will you dream into existence?" asked Johnston, who received an honorary Doctor of Humane Letters.
Manchester College also awarded 163 bachelor of science degrees, 35 bachelor of arts degrees, two associate of arts degrees on the warm spring day. (One student received two degrees.)

President Jo Young Switzer thanked the graduates for choosing Manchester College as their home for the past four years. "Your being here has shaped who we are," she said.

"My time at MC has helped me to grow morally, academically, and spiritually," said Corey Martinez, a Fort Wayne biology-chemistry major who offered graduate reflections at baccalaureate. "I believe the faculty here is world-class, and they are always willing to talk about anything and they make time to do so." He now embarks on a journey to become a dentist, after mentoring by Dr. Mark Shafer, a 1988 MC graduate who traveled with Martinez on a January session medical practicum in Nicaragua.

English and literature major Cambria Teter also gave graduate reflections, particularly of serving last summer with the Church of the Brethren's Youth Peace Travel Team. "This possibility opened my eyes to so much. The ability to not only help people, but to teach as well – for people were now learning through my actions and my words." Teter, of Upland, Calif., now travels to South Korea to teach English.

Katherine Brelje of Fort Wayne, who graduated summa cum laude with a bachelor's degree in philosophy and art, delivered the "response" from the Class of 2011:

"Whether you become a tax accountant or an alpaca farmer, a public school teacher or a radio station DJ, a fry cook or a peace-promoting athletic philosopher, you can change the world for the better. Through smiles and thank-yous, everyday decisions and conversations, public policy and legislation, let's make a difference in this world!"
***summa cum laude **magna cum laude *cum laude


| | | | |
| --- | --- | --- | --- |
| Graduate | Deg. | Major | Hometown |
| Imad Abudiab | BS | Management/Marketing | Jerusalem, Israel |
| Afadelyya Adam | BS | Biology-Chemistry | North Manchester, Ind. |
| Ryan Adams | BS | Early-Mid Education/Mild Int. | Akron, Ind. |
| Travis Alford | BS | Fitness & Sport Management | Michigantown, Ind. |
| Samantha Alley | BS | Educational Studies | Portage, Ind. |
| Caleb Asbury | BS | Biology/Environmental Studies | Fort Wayne, Ind. |
| Emily Ballinger* | BA | Exercise Science | Delaware, Ohio |
| Kirk Bates** | BS | Accounting | Bourbon, Ind. |
| Jennifer Beakas* | BS | Early-Mid Education/Mild Int. | Auburn, Ind. |
| Christopher Becker | BS | Exercise Science | Ossian, Ind. |
| Brittany Betz*** | BA | Social Work | North Liberty, Ind. |
| Cory Bifoss | BS | Management/Marketing | Rensselaer, Ind. |
| Alina BigJohny | BS | 5-12 English/Language Arts | Fort Wayne, Ind. |
| Kristen Bowen* | BS | Management | Anderson, Ind. |
| Chelsea Bower | BS | K-12 Health & Phys Education | Galveston, Ind. |
| Joshua Bowling** | BA | Biology-Chemistry | Richmond, Ind. |
| Katherine Brelje*** | BA | Philosophy/Art | Fort Wayne, Ind. |
| Jessica Bremer | BS | Exercise Science | Howe, Ind. |
| Ashley Bright | BS | Psychology | Vevay, Ind. |
| Bradley Briner | BS | Accounting/ Marketing | North Manchester, Ind. |
| Megan Bucher | BS | Early-Mid Education | Huntington, Ind. |
| Erica Bush | BS | Accounting/Finance | Greenwood, Ind. |
| Danielle Cancelli | BS | Secondary Education Mathematics | Peoria, Ariz. |
| Kyle Carlson | BS | Biology-Chemistry | Fort Wayne, Ind. |
| Michael Carpenter | BA | Biology-Chemistry | North Manchester, Ind. |
| Samuel Carsey | BS | Accounting | Swartz Creek, Mich. |
| Erin Cartwright | BS | Peace Studies | Indianapolis, Ind. |
| Bethany Clark | BA | Religion | Gettysburg, Ohio |
| Erin Cole** | BA | Biology-Chemistry | Mooresville, Ind. |
| Karla Conrad** | BS | 5-12 Mathematics | Pleasant Lake, Ind. |
| Cassandra Costa | BS | Athletic Training | Leo, Ind. |
| Ranin Darkhawaja | BS | Biology-Chemistry | Ramallah, West Bank |
| Cayla Davenport | BS | Early-Mid Education | Warsaw, Ind. |
| Annamarie Dee | BA | Art | Michigan City, Ind. |
| Shawn Deetz | BS | General Business | Clearwater, Fla. |
| Tyler Delauder | BS | Environmental Studies | Saint Joe, Ind. |
| Alison DeNeve** | BA | Art | New Carlisle, Ind. |
| Benjamin Dixon | BS | Exercise Science | Westville, Ind. |
| Kailey Dopkowski | BA | Sociology | Waynetown, Ind. |
| Andrew Durham | BA | Finance | Kokomo, Ind. |
| Timothy Edmonds | BS | Sociology | Frankfort, Ind. |
| Jason Elliott | BS | Accounting/Economics | Goshen, Ind. |
| David Erpelding*** | BS | Accounting/Finance | Lowell, Ind. |
| Chase Estepp | BS | Early-Mid Education | Nappanee, Ind. |
| Shafiqullah Fahim | BS | Biology-Chemistry | Fort Wayne, Ind. |
| Nathan Ferch | BS | Sport Management | Walkerton, Ind. |
| Brandon Flager | BS | Accounting/ Finance | Elkhart, Ind. |
| Kelly Fogle*** | BA | Psychology | Fort Wayne, Ind. |
| Aaron Foster | BS | Accounting | Mentone, Ind. |
| Ty Foster* | BS | Sport Management | Danville, Ind. |
| Eric Francisco* | BS | Accounting | Fort Wayne, Ind. |
| Austin Freels | BS | 5-12 Life Sciences | Auburn, Ind. |
| Allison Gallahan | BS | Early-Mid Education | Peru, Ind. |
| Emily Gallmeyer* | BS | Early-Mid Education/Mild Int. | Albion, Ind. |
| Joshua Garber | BS | Communication Studies | North Manchester, Ind. |
| Allyson Garman | BS | Accounting | Hamilton, Ind. |
| Stacia Gerardot* | BS | Athletic Training | Fort Wayne, Ind. |
| Trent Gerbers** | BS | Accounting | Fort Wayne, Ind. |
| Brandon Gerlach | BS | Accounting | Lucerne, Ind. |
| Brandon Gingras | BS | Fitness & Sport Management | North Manchester, Ind. |
| Nicole Glassburn** | BA | 5-12 Spanish | Rochester, Ind. |
| Charlene Glassley* | BA | 5-12 Social Studies/History | Westville, Ind. |
| Stephanie Green** | BA | K-12 Music Choral | Fort Wayne, Ind. |
| Ryan Greer | BS | Sociology | Knox, Ind. |
| Madelyn Gregory | BS | Communication Studies | Bloomington, Ind. |
| Jacob Grimm | BS | Accounting | Auburn, Ind. |
| Matthew Gross | BS | Accounting | Clinton, Ind. |
| Megan Gunder | AA/BS | Early Childhood Education | Bloomington, Ind. |
| Courtney Hall | BS | Political Science | Bringhurst, Ind. |
| James Hall** | BA | Biology | Warsaw, Ind. |
| Carl Hartstein | BS | 5-12 Social Studies | Walkerton, Ind. |
| Kyla Hedge | BA | English | Eaton, Ind. |
| Kelsey Heisler | BS | Early-Mid Education | Plymouth, Ind. |
| Stephen Hendricks | BS | Biology-Chemistry | South Bend, Ind. |
| Andrew Herbal | BS | Chemistry | Sparta, Mich. |
| Ann Hernandez | BS | Athletic Training | Dyer, Ind. |
| Katherine Herrington*** | BS | Exercise Science/Athletic Training | Saint Johns, Mich. |
| Jessica Hickerson | BS | English | Linthicum, Md. |
| Jeremiah Hooks | BS | Fitness & Sport Management | Lake Village, Ind. |
| William Hopkins | BS | Psychology | Wolf Lake, Ind. |
| Kaitlin Hughes | BS | Music/K-12 Choral Music | Osgood, Ind. |
| Kaitlin Hutchinson | BS | Exercise Science | South Bend, Ind. |
| Jennifer Iannuzzelli | BS | Psychology | South Bend, Ind. |
| Khadijat Ishola-Gbenla | BA | Biology-Chemistry | Fishers, Ind. |
| Abbee Iungerich | BS | Athletic Training | Covington, Ind. |
| Kelsea Jackson | BA | Biology-Chemistry | Fort Wayne, Ind. |
| Chaitra Jewell | BS | Early-Mid Education/Mild Int. | Akron, Ind. |
| Chelsea Johnson | BS | Educational Studies | Jamestown, Ind. |
| Haley Johnson* | BA | Political Science/Spanish | Indianapolis, Ind. |
| Wesley Johnson** | BA | Biology-Chemistry | Decatur, Ind. |
| Brock Jones | BS | Environmental Studies | Lapel, Ind. |
| Cortney Jones | BS | K-12 Adapted Physical/Health Education | Kendallville, Ind. |
| Kaz Kalita | BS | Chemistry | Laporte, Ind. |
| Adelaide Kamagaju | BS | Biology-Chemistry | Fort Wayne, Ind. |
| Kyler Kearby | BS | 5-12 Mathematics | Columbia City, Ind. |
| Phylicia Kelly* | BA | Early-Mid Education | Lake Village, Ind. |
| Jade Kennedy | BS | Finance | North Manchester, Ind. |
| Nicholas Kenny | BS | Music | Fort Wayne, Ind. |
| Jihan Khalaf | BS | Communication Studies | Jerusalem, Israel |
| Johnathon Kimmel | BS | Exercise Science | Fort Wayne, Ind. |
| Michael Kirby | BS | Communication Studies | Winchester, Ind. |
| Jordon Knox | BS | K-12 Physical Education | Lafayette, Ind. |
| Sara Kolenda | BA | Management | South Bend, Ind. |
| Paige Koomler | BS | Early-Mid Education | Fort Wayne, Ind. |
| Scott Krager | BS | Fitness & Sport Management | Cedar Lake, Ind. |
| Peter Krill | BS | Management | London, Canada |
| Brian Kunze | BS | 5-12 Social Studies | Plymouth, Ind. |
| Stephanie Lackey | BS | Biology-Chemistry | Lagrange, Ind. |
| Julia Largent | BS | Peace Studies/Communication Studies | Muncie, Ind. |
| Jonathan Larkin | BS | Management/Marking | South Bend, Ind. |
| Brian Liffick | BA | Accounting/Finance | LaPorte, Ind. |
| Wendy Lude | BA | Accounting | South Whitley, Ind. |
| Curtis Mallery | BS | Management/Marketing | Noblesville, Ind. |
| Corey Martinez | BS | Biology-Chemistry | Fort Wayne, Ind. |
| Amanda Mauk | BS | Biology-Chemistry | Noblesville, Ind. |
| Mary McCauley | BS | Exercise Science/Athletic Training | Goshen, Ind. |
| Kathryn McFadden*** | BS | Psychology | Goshen, Ind. |
| Abel Mengistu | BS | Computer Science/Mathematics/Physics | Addis Ababa, Ethiopia |
| Mary Milkowski | BS | Athletic Training | Whiting, Ind. |
| Cameron Miller | BS | Accounting | North Manchester, Ind. |
| Joshua Miller | BS | Finance/ Accounting | Waterloo, Ind. |
| Brittney Miller | BA | Biology-Chemistry | Goshen, Ind. |
| Megan Miller* | BA | Sociology | Goshen, Ind. |
| Abdulaziz Moburuk | BS | Peace Studies | North Manchester, Ind. |
| Rebecca Moore | BS | Biology-Chemistry | Geneva, Ind. |
| Lisa Morgan | BS | Psychology | Fort Wayne, Ind. |
| Nansamba Musisi | BS | Marketing | Kampala, Uganda |
| Lauren Nash | BS | Educational Studies | Sellersburg, Ind. |
| Daniel Nave | BS | K-12 Health & Physical Education | Fort Wayne, Ind. |
| Michael Neese | BS | Communication Studies | Avon, Ind. |
| Aja Neumann | BS | Political Science | Milan, Ind. |
| Kerry Nielsen | BS | Environmental Studies | Medaryville, Ind. |
| Nadia Nubani | BS | Biology-Chemistry | Fort Wayne, Ind. |
| Iseoluwatobi Osunbayo | BS | Biology-Chemistry | Grand Prairie, Texas |
| Danner Partridge | BS | Computer Science | New Haven, Ind. |
| Joseph Paulus | BS | Management | Kendallville, Ind. |
| Katherine Pea* | BA | Educational Studies/Psychology | Fort Wayne, Ind. |
| Christa Peden | BS | Athletic Training/Exercise Science | North Manchester, Ind. |
| Kyle Pletcher* | BS | Accounting | Walkerton, Ind. |
| Mercedes Plummer | BS | K-12 Physical Education | Warsaw, Ind. |
| Justin Podell | BS | Exercise Science/Athletic Training | Walkerton, Ind. |
| Michael Pownall | BS | Sport Management | Warsaw, Ind. |
| Jonathan Price* | BS | Accounting | Etna Green, Ind. |
| Brandy Price | BA | History | Wabash, Ind. |
| Jason Ray | BS | Political Science | Liberty, Ind. |
| Hannah Reed | BS | Biology | Gas City, Ind. |
| Ryan Reed | BS | Fitness & Sport Management | Butler, Ind. |
| Lindsay Reid | BS | Biology-Chemistry | Fort Wayne, Ind. |
| Kirk Rennaker | BS | Accounting | Marion, Ind. |
| Deena Rhoades | BA | Art | Goshen, Ind. |
| Kacee Robins | BA | History | Huntertown, Ind. |
| Eric Roof | BS | Early-Mid Education | Granger, Ind. |
| Kylee Rosenbaum | BS | Marketing | Hobart, Ind. |
| Donelda Rudd | BS | Educational Studies | South Whitley, Ind. |
| Epigmenio Sanchez | BS | Biology-Chemistry | Hammond, Ind. |
| Mitchell Schaefer | BS | Management/Marketing | Fort Wayne, Ind. |
| Adam Schell | BS | Fitness & Sport Management | Lakeville, Ind. |
| Brittany Schlundt | BS | Accounting | Goshen, Ind. |
| Kirsten Schneider | BS | Early-Mid Education | Columbia City, Ind. |
| Ronald Schweyer | BS | Chemistry | Hudson, Ind. |
| Kassie Seidenstucker | BA | Biology-Chemistry | Gosport, Ind. |
| Nicholas Seman* | BS | Biology-Chemistry | Howe, Ind. |
| Linsey Shannon | BA | English/ K-12 English/Language Arts | Churubusco, Ind. |
| Tabitha Shepherd | BS | Exercise Science | Liberty Mills, Ind. |
| Kristofer Shoemaker | BS | Management/Marketing | South Whitley, Ind. |
| Nicole Short | BS | Early-Mid Education | Markle, Ind. |
| Audrey Siebrase | BS | Marketing/Management | North Manchester, Ind. |
| Jacob Simms | BS | Sociology | Kokomo, Ind. |
| Marissa Sims | BS | Accounting/Finance | Huntington, Ind. |
| Harry Smith | BS | Political Science | Bringhurst, Ind. |
| Logan Smith | BS | Early-Mid Education | Lima, Ohio |
| Megan Smith | BS | 5-12 Social Studies | Grabill, Ind. |
| John Smolinski | BS | Sport Management | South Bend, Ind. |
| Thomas Stafford | BS | Physics/ Computer Science | Goshen, Ind. |
| Jesse Steffen | BS | 5-12 Mathematics | Goshen, Ind. |
| Kyle Steineman | BS | Athletic Training | Huntington, Ind. |
| Jessica Stiffler | BS | Early-Mid Education/Mild Int. | Akron, Ind. |
| Danielle Stoy | BS | Sociology | Angola, Ind. |
| Elizabeth Strahammer | BS | Accounting | Monroe, Ind. |
| Devon Syndram | BS | History | Pierceton, Ind. |
| Lindsey Teller | BS | Accounting | Fremont, Ind. |
| Cambria Teter | BA | English | Upland, Calif. |
| Matthew Thomas | BS | Exercise Science | Kokomo, Ind. |
| Emily Vail | BS | Exercise Science | McCordsville, Ind. |
| Ashley Vance | BA | Sociology/ Psychology | Mooresville, Ind. |
| Brooke Walters | BS | Psychology | Claypool, Ind. |
| James Ward | BS | Finance/Accounting | Monticello, Ind. |
| Zachary Washington | BS | Philosophy/Peace Studies | Kokomo, Ind. |
| Adam Welcher | BS | Early-Mid Education | Crawfordsville, Ind. |
| Derek Wells | BS | Educational Studies | Ashley, Ind. |
| Jessica Williams* | BS | Early-Mid Education/Mild Int. | Auburn, Ind. |
| Tassy Winterrowd | BS | Athletic Training | North Manchester, Ind. |
| Brian Woods | BS | Accounting | Carmel, Ind. |
| Joshua Worch* | BA | Chemistry | Richmond, Ind. |
| George Wray | BS | Finance/ Accounting | Fort Wayne, Ind. |
| Grace Wuethrich | BS | Exercise Science | Francesville, Ind. |
| Daniel Wyant | BS | Accounting | Bunker Hill, Ind. |
| Matthew Zickafoose | BS | Management | Rochester, Ind. |
| | | | |
| | | | |

Graduate Reflections
Class of '11 Response