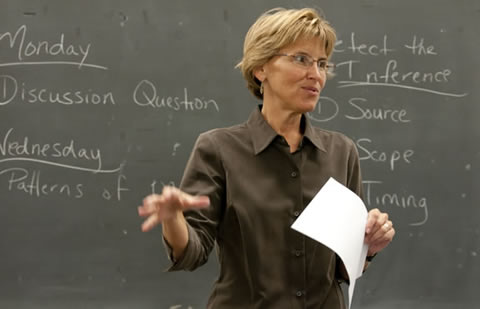 Dr. Mary P. Lahman, Manchester College professor of communication studies
Academic news leader, faculty praise
Manchester College's teaching environment
Manchester is one of the best colleges in the nation to work for, according to The Chronicle of Higher Education.
The Chronicle's third annual report on "The Academic Workplace" is based on a survey of more than 42,000 employees at 277 colleges and universities, including employees at Manchester College.
The Chronicle reports that Manchester's faculty members give high praise for their teaching environment and tenure clarity and process.
"It's quite an honor to have Manchester College recognized by the leading news service in higher education," said President Jo Young Switzer. "Our faculty and staff work together to make this a great place to work. With a positive work environment, we can focus on students so that they learn and graduate."
Faculty members surveyed told The Chronicle that the 1,223-student northern Indiana school recognizes innovative and high-quality teaching. Forty-three of Manchester's 67 full-time faculty members are tenured, with 19 on tenure track. Tenure track is an internal process for promotion of more senior faculty that demonstrates strong research, teaching and administrative service.
Professor Mary Lahman, who joined the faculty in 1996, lists a number of reasons she enjoys teaching at Manchester College, where she chairs the Department of Communication Studies:
"Good colleagues who pique student curiosity
Professors who understand various students' entry points into subjects as diverse as philosophy, physics and accounting
Student-centered activities, both in and out of the classroom, that encourage academic learning, personal growth and civic engagement
Service-learning projects, online discussions and learning communities that facilitate learning as 'guide on the side' not as 'sage on the stage'"
The survey results are based on a two-part assessment: an institutional audit that captured demographics and workplace policies from each institution and a survey of faculty, administrators and professional support staff. Employee feedback was the primary factor in deciding whether an institution received recognition.
Great Colleges to Work For is one of the largest and most respected workplace-recognition programs in the country. For more information and to view all results of the survey, visit the web site of The Chronicle of Higher Education.
July 2010
Manchester's
Survey Results
Manchester faculty and
professional staff show their
pride in the College
with high grades for teaching
environment, supervisors and
department chairs, senior leadership, professional development
and job satisfaction.