Indianapolis Peace House continues
to build its leadership team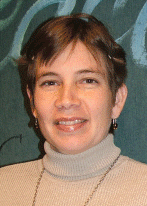 Laura J. Harms of Arlington, Va., will join Indianapolis Peace House as associate director on Jan. 8.
Harms has a decade of experience in peace-centered community building, said Manchester College President Jo Young Switzer, lead president of the Plowshares consortium of Earlham, Goshen and Manchester colleges that operates Peace House.
Harms is resident services manager of AHC Inc, a private non-profit developer of housing communities in the mid-Atlantic region. She has worked as a mediation specialist, service learning and volunteer coordinator, and facilitator for programs in Honduras, Columbia and Washington, D.C.
The 1995 Phi Beta Kappa peace and global studies graduate of Earlham College earned a master's degree in conflict analysis and resolution in 2005 from George Mason University.
Plowshares recently hired Kim Overdyck of the University of Notre Dame as executive director of Indianapolis Peace House. She begins Jan. 2.
Indianapolis Peace House was founded by the Plowshares consortium as part of a grant from Lilly Endowment Inc. Students complete internships in inner-city Indianapolis, study urban peace and social justice, education and structural change, and live downtown. For more about Indianapolis Peace House, visit www.plowsharesproject.org