3:30 p.m. Thursday, September 20
Cordier Auditorium
Vera Bradley co-founder brings friendship,
fashion, philanthropy to Manchester lecture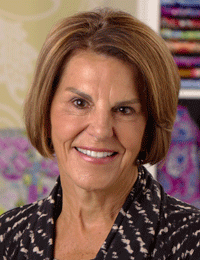 Innovative creativity and the ability to channel that pizazz transformed a dream into the internationally recognized brand of Vera Bradley. The success story of Patricia R. Miller, co-founder of the Fort Wayne-based fashion company, will serve as a valuable lesson for Manchester University students on Thursday, Sept. 20.
Miller will present "Friendship, Fashion and Philanthropy – The Vera Bradley Story" as the Harry '35 and Jeanette Henney Lecture at 3:30 p.m. in Cordier Auditorium on the North Manchester campus. The public is invited to the free event; reservations are not necessary.
Miller also is co-founder of the Vera Bradley Foundation for Breast Cancer, which has raised more than $16 million for research.
Since becoming Indiana's 1987 Entrepreneur of the Year, Miller has served as Indiana's first secretary of commerce and on more than 15 boards, including MU's President's Leadership Council. She is recipient of the Indiana Living Legend Award of the Indiana Historical Society and recognized as an "Outstanding Philanthropist" by the Association of Fundraising Professionals.
The Harry '35 and Jeanette Henney Lectureship was established by Dr. Jane E. Henney, a 1969 graduate of Manchester College and member of its Board of Trustees, to honor her parents. The former commissioner of the U.S. Food and Drug Administration currently is a professor of internal medicine for the University of Cincinnati.
August 2012