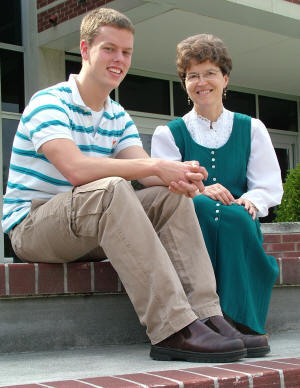 Teacher-student team will help Hispanics find their place
in area communities
A Manchester College professor and student are teaming up to help area Hispanics find a better life in north central Indiana. With considerable research and a couple of grants, this summer Dr. Ingrid Rogers and senior Tim Polakowski are developing a guide book – in Spanish – of important resources in the area.
Both have worked for several years among the area's growing Mexican immigrant population, particularly providing English as a second language (ESL) at the Learn More Center in North Manchester. Students in Rogers' Spanish classes volunteer as assistants in the ESL classes, helping with pronunciation, checking written assignments for accuracy and engaging the Hispanic students in basic conversations.
They are especially focusing on the communities of North Manchester and Akron, home to at least 650 Hispanics, Polakowski said.
It's clear that more outreach is needed to Hispanics settling in the area, Rogers said. "We interviewed employers, physicians, police, business people, teachers, bank employees and others who frequently come in contact with our Mexican population," she said. "Most perceive the language barrier as the biggest hurdle in interacting with immigrants.
"The lack of accessible information makes it difficult for Hispanics to function in the community and occasionally leads to drastic cross-cultural clashes."
Hispanic immigrants say poor language skills prevent them from finding their way around town, and from performing important tasks, such as opening a bank account to keep their money safe, getting medical and family services, enrolling their children in school, and accessing other basic information. "One woman spent hours in search of the local library because she could not ask for directions," Rogers said.
Polakowski, who is majoring in Spanish and social work, has a $4,000 Lilly Endowment grant through the College's Office of Career Services to work with Rogers on the 10-week project. The Rockton, Ill., senior also received a $1,500 service venture grant from Ball Brothers Foundation through Independent Colleges of Indiana.
Together, they are collecting information on available resources for a 150-page guide to area schools, health clinics, medical information, emergency contacts, family resources, children's services, adult education, churches, legal services and social agencies. The booklet has maps, too.
First, Polakowski and Rogers scoured agencies, businesses, schools, police, foundation, organizations and the Internet for brochures, contacts and information. Then, they contacted schools, banks and other businesses and agencies to understand their needs regarding outreach to Spanish-speaking clients. Of course, the research includes hundreds of conversations with area Hispanics – at church, in stores, at events and gatherings.
Always in consultation with their sources, the two are translating text into Spanish, securing reprint permissions, editing, formatting and proofing. The final phase consists of publishing, presenting and distributing the free resource guide – making it readily available, again based on their research. They hope to have the guide ready for distribution when children return to school in mid-August.
For more about the Hispanic guide book project, or to suggest information, contact Ingrid Rogers at inrogers@manchester.edu, 260-982-5374, or Tim Polakowski at trpolakowski@manchester.edu.
To find more about opportunities at Manchester College, visit www.manchester.edu