3:30 p.m. Tuesday, Sept. 20
Cordier Auditorium
Former Congressman John Hostettler
is Manchester's Constitution Day program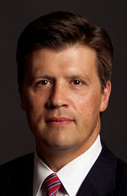 President Thomas Jefferson wrote, "Congress has not unlimited powers to provide for the general welfare, but only those specifically enumerated."

Former U.S. Rep. John Hostettler will deliver Manchester College's annual Constitution Day program on Tuesday, Sept. 20. "Just How Powerful is the U.S. Constitution?" is the topic of Hostettler's lecture, which begins at 3:30 p.m. in Cordier Auditorium on the North Manchester campus. The public is invited to the free event.

He will discuss the idea of enumerated powers in the Constitution and the influence of The Federalist papers.

Hostettler is author of Nothing for the Nation: Who Got What Out of Iraq? and served 12 years representing Indiana's 8th Congressional District. The Republican promoted bipartisan relations with his colleagues, while voting against key legislation sponsored by members of his own party. He was twice awarded the Taxpayers' Friend Award by the National Taxpayers Union. In 2006, he received the Homeland Defender Award by the 9/11 Families for a Secure America.

The annual program commemorates Sept. 17, 1787, when delegates to the Constitutional Convention signed the Constitution of the United States of America.
History and Political Science is one of the oldest programs at Manchester College, and includes active participation in Mock Trial, Model United Nations and Political Science Club. For more about the program, click here.
September 2011