Peace activist Ibrahim Ramey
brings message to North Manchester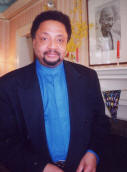 Muslim peace activist Ibrahim Malik Abdil-Mu'id Ramey will speak to area Church of the Brethren congregations and Manchester College students in early February. The public is invited to all of the events for Ramey, who coordinates the Peace and Disarmament program of the Fellowship of Reconciliation.
The Fellowship is the nation's oldest interfaith peace and social justice organization. Ramey is on a speaking tour to discuss the impact of the U.S. war machine on Third World communities within the United States and globally.
The North Manchester Church of the Brethren will host Ramey at the coffeehouse on Sunday, Feb. 6. Ramey's presentation on the World Social Forum in Brazil will begin at 6:30 p.m.
The public also is invited to a reception for Ramey at the Manchester College Intercultural Center from 7:30 to 8:30 p.m. on Monday, Feb. 7. And Ramey will discuss demilitarization and peace at the Kenapocomoco gathering at 9 p.m. that Monday in the Helman Hall Great Room on campus. Ramey's visit is co-sponsored by the Manchester College Peace Studies Institute, Kenapocomoco Coalition, Manchester Church of the Brethren and Manchester Fellowship of Reconciliation.
Ramey will travel to Fort Wayne on Saturday, Feb. 5 to discuss the Fellowship of Reconciliation at Beacon Heights Church of the Brethren. The potluck dinner begins at 5:30 p.m. with the program at 7 p.m.
A native of Virginia, Ramey served on the staff of the Philadelphia Black Economic Development Conference and has presented at international conferences in Tanzania, Libya, Sweden, North Korea, South Africa and India. He is a board member for the Muslim Women's Institute for Research and Development, the Westchester (N.Y.) Martin Luther King Jr. Institute for Nonviolence and the Muslim Peace Fellowship and the Temple of Understanding.