2013 International Buffet
11 a.m. to 1 p.m., MU Union
Sunday, April 14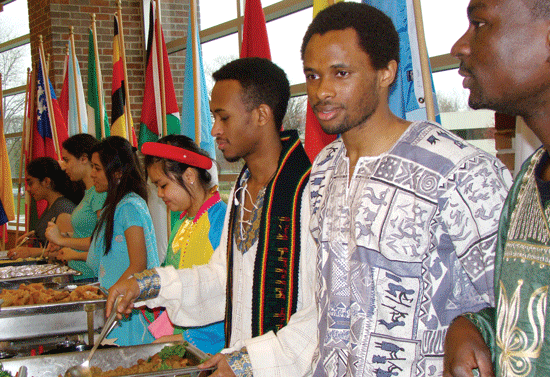 Indulge in a taste of Manchester's
international flavor on April 14

Guests can sample sweet baklava from Greece, marinated beef kitfo from Ethiopia and kabsa rice from Palestine at the 2013 International Buffet at Manchester University on Sunday, April 14.
And that's just a tiny part of the menu MU's international community and friends will prepare and serve for the 11 a.m. to 1 p.m. buffet in the Union. The public is invited to sample 12 dishes from eight countries. Tickets are $10 for adults and $5 for children under 12. No reservations are needed.

Volunteers will cook the food in cycles, beginning three days before the biennial buffet. Chartwell's, the University's food service, is co-hosting the event, overseeing and assisting with the preparations and service. The MU Office of Multicultural Affairs is the coordinating co-host of the event.
Salwa Nubani, a first-year biology-chemistry major from West Bank, is in charge of preparing the Palestinian dishes. "A simple Arab meal sometimes takes five hours of preparation for just a small family," she said. "It's going to take a long time. I'm a little bit nervous, but very excited."
Diners who remain for the entire two-hour food service will find entertainment, dancing, an MU international version of Who Wants to be a Millionaire?… and prizes.
The International Buffet is a natural for Manchester University, with students from 23 countries and 21 states.
"This event helps to promote the integration of diversity to the Manchester student body and community," said Kenneth Green, programmer for the Office of Multicultural Affairs. "We will all come together and experience working alongside someone from an international background."

For more about the MU Office of Multicultural Affairs, visit www.manchester.edu/osd/oma.
April 2013