noon to 5 p.m. Sunday, April 15, 2012
Miso soup, mariachi and much,
much more: Manchester College
hosts International Fair 2012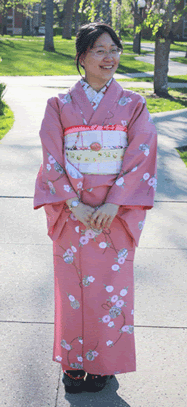 Cultural samples from all the ends of the world, from Palestine and Bulgaria to China and Uganda, along with such closer countries as Cuba and Canada, come together this Sunday, April 15 for Manchester College's biennial International Fair.
More than 800 guests from neighboring communities are expected to join the free celebration of the College's international spirit. Family-friendly entertainment, fashion, culture and food representing at least 20 countries will fill the Physical Education and Recreation Center (PERC) from noon until 5 p.m.
Satomi Imai, a sophomore majoring in peace studies, will prepare miso soup and sushi, two customary dishes from her home of Hokkaido, Japan. "(This food) reminds me of home," she said. "I eat miso soup almost every day at home."
Imai hopes to wear an informal kimono, traditional Japanese garb for females. "I want to introduce my culture to the American people," Imai said. "I'll also get to learn new things about the food of other countries and their cultures (at International Fair 2012). It's academic, but it's also fun."
The Fair opens with Salaam Band, which will perform Middle East and North African music. Designed to appeal to all ages, the program also includes Japanese martial arts, a mariachi band, and more. Most of the entertainment is new to the International Fair.
Pooja Shrestha will prepare momos, chicken dumplings from her home in Kathmandu, Nepal. "It's a great event that brings the Manchester community as well as friends from Fort Wayne and Wabash together," said the senior finance major. "A lot of international students are putting in hard work to cook all the food. We hope everyone comes to enjoy the food and entertainment and learn about other cultures."
"I'm looking forward to seeing a large turnout from the community, having a number of countries represented, and seeing people who really care about diversity and want to see it thrive, particularly here at Manchester College," said Michael Dixon, chair of International Fair 2012 and director of multicultural services and campus diversity. Dixon's mother is bringing some of his heritage to the fair, too. She'll share Philippine dishes of lumpia (an egg roll) and pansit bihon, fried rice noodles in a sauce with veggies and meat that Dixon can't wait to dive into.
Also on the menu: brezeln (Americans call them pretzels) from Germany, tibs grilled meat from Ethiopia, beaver tails and poutine from Canada that aren't at all what you might think, baklava from Bulgaria, Irish beef stew, Native American fry bread … and other treats. All food will be prepared in the College Union, with guidance from Chartwells food service.
Generous support for the 2012 International Fair comes from The Wabash Community Foundation, the Manchester College Community Club, hundreds of helping hands.
With students and faculty from more than 26 countries and a broad range of international study opportunities, Manchester College is the ideal host for the biennial celebration. For more about the College, visit www.manchester.edu.
April 2012