11 a.m. to 1 p.m. Sunday, April 10
Haist Commons, College Union
2011 International Buffet celebrates
diversity of Manchester campus
with the community
Manchester College invites its neighbors to join in a celebration of multicultural diversity: an International Buffet on Sunday, April 10 in Haist Commons of the College Union.
Food from homes all over the world will be prepared by Manchester students, with guidance from the campus Chartwell's Food Service. Many of the international students and faculty will wear traditional outfits from their homelands.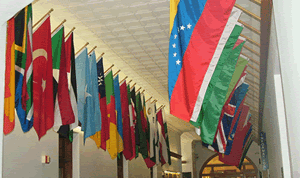 Families large and small are welcome for the buffet from 11 a.m. to 1 p.m.; reservations are not necessary. Tickets are $9.99 for adults and $5.50 for children age 6 to 12.

More than 40 Manchester College students are far from their homelands, and scores more students at the northern Indiana school have close family ties and friends abroad. International faculty and staff members add to the campus cultural mix, as well as study abroad opportunities.

Gisele Youth, a sophomore from Cameroon in Central Africa, will try Mexican cooking by helping make empanadas meat pies and horchata beverages. "Preparing for the International Buffet is a mind-blowing experience because we have students from all over the globe bonding over cooking experiences, telling each other folktales about the different countries that are being represented and, above all, learning from each other," said Youth, who is majoring in biology-chemistry.

To learn more about multicultural opportunities at Manchester College, visit www.manchester.edu.
March 2011
Flags of countries of international
students and faculty line Main
Hall of Administration Building