Check out the 2010 January session Photo Album!
Postcards from afar: It's January
session at Manchester College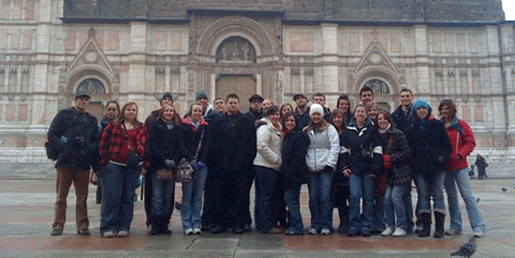 MC students in Comparative Civilizations of Italy and Greece pause to pose.
This January, students studying on campus here at Manchester College are receiving postcards bearing scribbled messages and fascinating agendas of activities from all over the world.
Studying abroad and January go together like peanut butter and jelly at Manchester, as nearly 15 percent of students venture from the northern Indiana campus for a few weeks getting their feet wet in international waters. The fun Postcards are just the beginning.
"Studying abroad can open up students' eyes to so many things," says senior Janel Barsich, who is majoring in management and minoring in Spanish. "It has enhanced my knowledge of different cultures and also encouraged me to be a more-productive student and more independent," says the Merrillville, Ind. resident, who spent spring semester 2008 in Barcelona, Spain.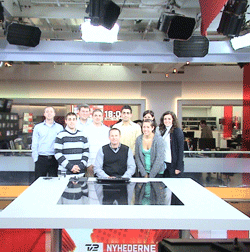 This January, Barsich is with seven other students in Denmark, the Netherlands, and Germany with Joe Messer, assistant professor of accounting and business.
"We are visiting many businesses, ranging from researchers to producers to distributors to banks," writes Messer in an email from Denmark. "This part of the trip has surpassed my expectations with the businesses really treating us well and engaging us in discussion. In most cases, we are meeting with the owners or other top managers."
More postcards are expected from Spain, where Art Department Chair Thelma Rohrer is leading a class of 11 in Art in Context and Dr. Carlos Yañez is immersing his students in the languages of Spain. One likely will be postmarked from the Vatican, where Mark Angelos, associate professor of history, is teaching Comparative Civilizations to 26 students as they tour the beautiful landscapes and study the cultures of Italy and Greece.
In Nicaragua, students of Jeffrey Osborne, assistant professor of chemistry, are doing service side-by-side with Nicaraguan and Manchester College alumni medical professionals as they deliver health care and medicines to remote villages. Two other students are in Nicaragua, enrolled in Intensive Studies in Spanish. Seventeen students are studying Social Psychology in Jamaica with Marcie Coulter-Kern, associate professor of psychology.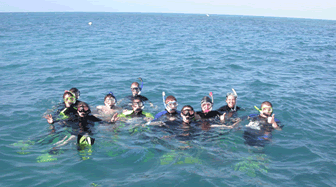 Some Manchester classes remain in the United States, but decidedly off-campus. Environmental Studies Chair Jerry Sweeten, recently recognized as 2009 Indiana Professor of the Year, and 11 students are conducting field ecology experiments in the Florida Keys. Also enjoying warmer climates, sociology and social work Professor Robert Pettit and students enrolled in Aspects of American Popular Culture are researching at the internationally-renowned hotspot for popular culture – Disney World.
Students remaining on campus during January are engaged in an intense study of single-subjects, ranging from taxation, geographic information systems, cinema for social change and quantitative reasoning to Canadian literature, book culture, African history, histology, the rhetoric of war, and much more. Students in the annual opera workshop will display what they've learned in productions Feb. 12-14. Interestingly, many of those vocalists are not music majors.
In all, January session at Manchester College means 68 courses attended by 87 percent of the 1,223-student body. The special session concludes Jan. 26, followed by a brief recess before spring semester begins Feb. 3. For more about classes, and enrolling, at Manchester College, visit www.manchester.edu.
January 2010