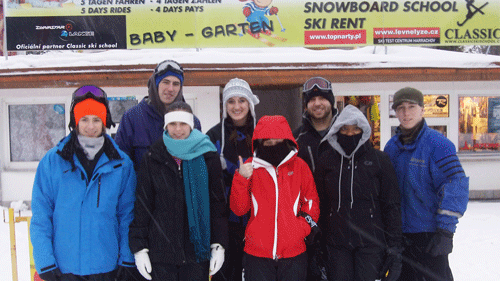 A new January session class is studying the snow business in the Czech Republic
It's January session 2012 at Manchester,
when students dig in at home and abroad
Why are U.S. jobs going to India? How did mathematics influence the Mayan culture? Why is the Czech Republic so successful in the snow business? Just ask 128 lucky Manchester College students who are studying abroad and off-campus this month.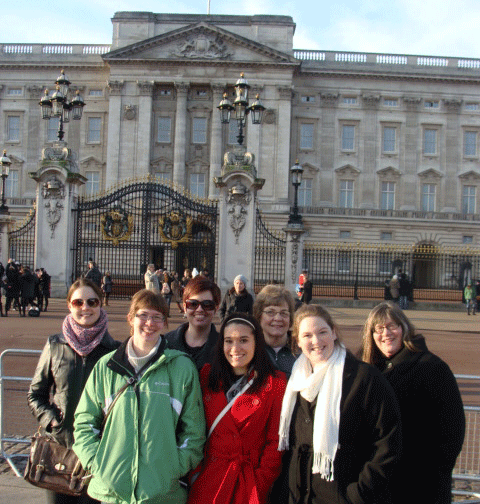 Fourteen professors are leading their students on learning journeys to cultures in Europe, India, Africa and tropical United States to study art, history, politics, language, mathematics, economics, religion and entrepreneurship.

Meanwhile, students in 56 classes back home on the North Manchester campus are exploring bioethics, rhetoric of war, virtual identities, the Holocaust and cinema for social change as well as general coursework in mathematics, music, writing and science. Students are spending three weeks of intensive study for three hours of credit in this annual January opportunity.

For a new class in India, 11 students are exploring rural villages where entrepreneurs thrive to examine the impact U.S. and Indian corporations have on the global economy. Sharing (and leading) the journey are Sree Majumder, assistant professor of economics, and Jim Falkiner, Mark E. Johnston professor of entrepreneurial studies.

Political science major Christine Minter of New Paris, Ind., is excited about immersing in a completely new culture. "This trip to India will help broaden my view of the global economy and help me understand what's really going on when U.S. companies send production to other countries."

Eight students are on the Yucatán Peninsula in southeastern Mexico, learning how mathematics has influenced the history, politics and development of the Mayan culture. Tim Brauch, assistant professor of mathematics, is their faculty guide.

Many are getting their first passports punched. "I've never been out of the country," said junior accounting and management major Ben Ellam of Granger, Ind. He is in the Czech Republic, Austria and Slovenia with other marketing, economics and management students (and one social work major) studying the snow business.

Last week, they met the CEO and co-owner of Czech ski manufacturer Sporten, which was state owned under the Communist Party. He told the students how he began acquiring shares in the company during privatization, reported Joe Messer, assistant professor of accounting and business.

Also on the schedule: a chairlift manufacturer, a snowmobile service center, a rock climbing center, a ski and snowboard manufacturer, clothing/fashion marketers and ski resort tourism centers. And "real mountain skiing," added Rachel Larson, junior accounting and management major from Pierceton, Ind.

Classes in art, history, drama and science in Spain, Ireland and England are long-time staples of a Manchester College January session. For some, it also is an opportunity to put their Spanish skills to practice.

Manchester College returns to a more typical semester on Jan. 31. For more about the College and its classes on campus, abroad and online, visit www.manchester.edu.
January 2012