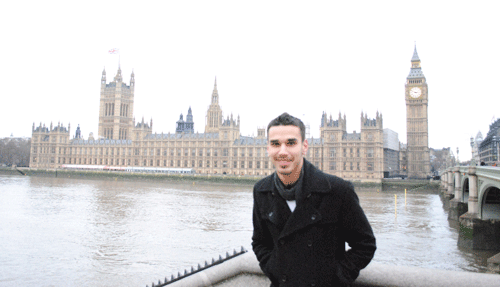 Senior chemistry major Epi Sanchez saw the House of Parliament and Big Ben in London during his January 2011 class in Development of Modern Scientific Thought.
It's January, when Manchester College
students are learning at home and far, far away
This January, 136 Manchester College students are happily commuting to classes far, far away.
Their social psychology, French, physics and philosophy classes are in France. Their chemistry class is in England. Other students are studying art in its original context – in Italy. And others are comparing civilizations in Spain. Social welfare is the subject of a Jamaican class, and nine students are down under in Australia, getting a close look at international distribution.
And, for the 30th time, pre-med, Spanish majors and other students are joining alumni medical professionals to care for patients in Nicaragua. Their travel plans include portaging heavy dug-out canoes, navigating nameless streets and climbing mountains. "The hands-on experience is really going to make this trip one of the best times of my life," says junior biology-chemistry major Brooke Hurlburt of Winamac, Ind. With her new passport in hand, Hurlburt's Nicaraguan journey is her first beyond U.S. borders.
During Manchester College's January session, students also are traveling and studying stateside. They're learning about the organizational psychology of Disney World and other industries in Florida and are studying peace issues at important memorials and museums in several states and Washington, D.C.
Meanwhile, students in 56 classes back home on the North Manchester campus are exploring subjects ranging from teaching, world literature, the Bible and accounting to biology, jazz history, taxes, astronomy and Hispanic culture. In addition, students are engaging in 19 internships and career experiences.
Most January session coursework spans three weeks of intensive study for three hours of credit, giving students opportunity to delve deeply into single classes and explore – whether on a couch in the campus library or on a bench in the Louvre Museum in Paris.
Manchester College returns to a more typical spring semester on Feb. 1. For more about the College and its classes on campus, abroad and online, visit www.manchester.edu.
January 2011