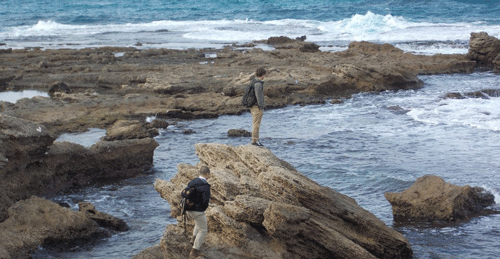 MU students take a close look at the Dead Sea for their January 2013 class
Judiasm, Christianity & Islam.
It's January, when MU students
travel near and far in pursuit of knowledge
Whether on a chilly trek across the North Manchester campus or on their first-ever plane ride, more than 1,000 Manchester University students are on an expedition for knowledge this January.

This month, 163 students are accompanying MU faculty in highly focused classes in Australia, Italy, Haiti, Israel, Germany, Jamaica, England, France, Greece, Palestine, Turkey, the Bahamas and Nicaragua. They are expanding their textbook and campus coursework with first-hand observations of the art, businesses, environments, histories, religions, and social and medical frameworks of these countries.

Students devote all of their studies to just one class in January, with the bar set high for comprehending and retaining course material in just a few weeks. A dozen students also are on an arduous Medical Practicum in Nicaragua, helping local and Manchester alumni medical personnel deliver care to families in remote areas.

Academic journeys continue for MU students on their North Manchester campus, too, with 51 classes on subjects ranging from jazz history to business law, animal behavior, ornithology, financial responsibility, the rhetoric of war and much more.
Sophomore French major Aubrey Conard of Indianapolis is in Australia for "Selling: Sun, Surf and Speeches," an international business course. The class is visiting Pricewaterhouse Coopers to learn about area nonprofits and Primitive Surf to study marketing and distribution.

They are also developing their own tours of the area. Conard and senior accounting and management major Andrew Ellam of Granger, Ind., are discovering the challenges of creating a tour itinerary. "It's a wonderfully realistic representation of how the best-sought plans can often go awry," she says.

In the United States, MU students are learning about religion in Amish Country, the psychology of Disney World and how local culture affects education in Arizona. Junior education major Sarah Bross of Chelsea, Mich., found classrooms in inner-city Phoenix "totally out of my comfort zone. I am used to being in a rural area."

Bross is certain her January off-campus experiences will prepare her for her career in early childhood and elementary education. "The lessons I learn from working with students and different teaching strategies will help me in the next year (with student teaching) and beyond."

Junior English major David Lloyd of Angola, Ind., is examining South Asian literature. "This class has been opening my eyes to the Partition and how it has affected India and Pakistan even today," he says.

For more about Manchester University and its January sessions, visit www.manchester.edu.

January 2013