Music-play learning specialist
Jim Gill to lead Manchester College
workshop for area teachers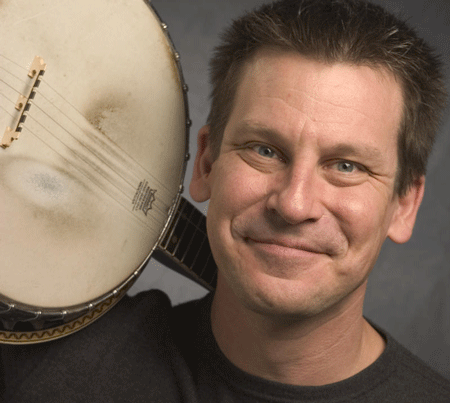 Their little legs are pumping, knees high, the tempo faster, and faster and, oh my, even faster! Amid the contagious giggles and wide grins, the most amazing thing is happening: They're listening, too!
Award-winning musician-author Jim Gill will teach teachers how to make it happen in a Manchester College workshop on Saturday morning, Feb. 12. Area educators of pre-schoolers through third-graders are invited to this energizing session of active participation and information gleaned from theory and practice.
The child development specialist uses music and books to generate active play between adults and children of all ability levels, including children with special needs. A Soup Opera, Jim Gill's newest book to read, sing and play, is a 2010 Notable Book and Recording of the American Library Association. He has produced five award-winning CDs of music play for classrooms, playrooms and family rooms and has authored two picture books. Learn more about Gill at www.jimgill.com/new/home.html.
Sponsored by the Education Department of Manchester College, this annual Early Learner Conference traditionally fills up quickly. The workshop runs from 8:30 to 11:30 a.m. on Feb. 12 in Flory Auditorium of the Science Center on the North Manchester campus.
The $40 fee includes:
3 hours of professional development, with 3 CRU credits

Ideas to integrate music into the classroom or home

Workshop handouts and materials

A Jim Gill CD ($15 value)

Snacks and beverages

Opportunities to network with other teachers

Inspiration, rejuvenation, fun!
Register now online or call the Manchester Education Department at 260-982-5421. (You may mail the $40 registration fee or bring it to the registration desk at the Feb. 12 event.) Make checks payable to Manchester College.
January 2011