MC graduates entering
careers despite bad job market
One is a microbiologist for a global food ingredient company in Georgia; another is an internal auditor for a leading steel producer in Fort Wayne. One is pursuing a master's degree in social work at Washington University in St. Louis and another serves at a homeless center in San Francisco. One assists presentations at the Smithsonian Institution in Washington, D.C., while another is enrolled in the College of Dentistry at the University of Florida.
It's well-documented and even guaranteed: Manchester College alumni find jobs or gain admission to graduate school. Since receiving their diplomas last May, almost 93 percent of 2009 alumni are employed, continuing their education or doing volunteer work – despite these difficult times when more than 14.8 million U.S. residents are jobless.
Most of the May graduates are contributing to Indiana's economy: 74 percent are teaching, accounting, locking up bad guys, analyzing blood samples, studying and working other jobs as Hoosiers. The remainder of the Class of 2009 is stretching its legs in 19 states and the Dominican Republic, France, Japan, Jerusalem, Kenya, South Korea and the eastern Caribbean.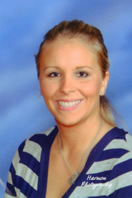 Sarah Yocum, who majored in secondary education Spanish, knew she had a job teaching Spanish at Peru High School even before she graduated from Manchester College.
Yocum credits mentoring by caring professors and classroom opportunities for her success. Annually, Manchester education majors have more than 350 field experiences that total more than 27,000 hours of classroom experience. "I was not a number at Manchester; I was a student who wanted to become a teacher," says Yocum, who also studied abroad in Barcelona during her Manchester years.
A full 100 percent of May 2009 alumni in 17 majors found jobs or embarked on graduate studies within six months of graduating: in chemistry, economics, education, environmental studies, exercise science, finance, fitness and sport management, history, management, marketing, math, music, peace studies, philosophy, political science, sociology, French and Spanish.
Many students took their expertise beyond U.S. borders. French major Colleen Hamilton, who graduated summa cum laude at the pinnacle of the Class of 2009, is teaching English to high school students in a small town in Brittany for the National Ministry of Education and next will do research in linguistics at McGill University in Quebec, Canada. Jason Adams is using his communication studies degree and BCA Study Abroad experience in Japan as he teaches English to middle school students in Japan.
"When I share some of my Manchester experiences with coworkers, they are often impressed by the small size of the classes and increased attention to individual students," says Adams. "They are jealous I had professors who became close mentors and acquaintances."
Manchester College's job placement rate is no guesstimate. Each winter, Manchester College connects with each of its graduates from the previous May. And Manchester graduates of any class year have the advantage of the College Office of Career Services, where they will find assistance with career profiles, resumes, cover letters, networking and internships.
Manchester also offers a guarantee: A job or graduate school within six months of graduation or return for a full year tuition-free. For more about Manchester College, its guarantees and graduates, visit www.manchester.edu.

February 2010