3:30 p.m. Tuesday, April 13
upper College Union
Environmental activist Julia Butterfly Hill
asks students: "What's Your Tree?"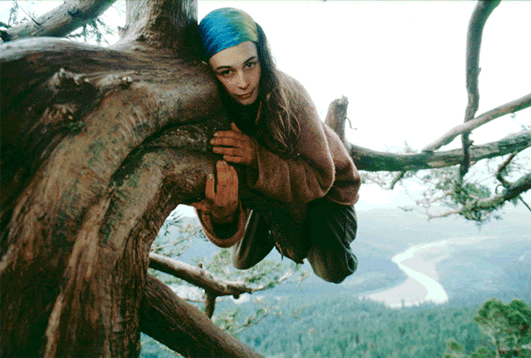 "Those things of real worth in life are worth going to any length in love
and respect to safeguard." — Julia Butterfly Hill
Julia Butterfly Hill – who spent 738 days more than 180 feet high among the branches to save a 1,500-year-old California Redwood – brings lessons in environmental activism, passion and power to Manchester College on Tuesday, April 13. The public is invited to the free convocation at 3:30 p.m. in the College Union.
From Dec. 10, 1997 to Dec. 18, 1999, Hill lived in the tree she called Luna, enduring freezing rain, El Nino winds, helicopter harassment and a 10-day siege by Pacific Lumber Co. security as she staved off loggers from clear-cutting her tree and other giant redwoods.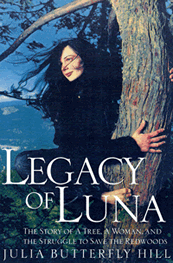 "What's Your Tree?" she will ask Manchester College students at her April 13 convocation. The question has become her mantra. Since her '90s tree-top demonstration in Humboldt, Calif., she has co-founded the Circle of Life Foundation, a network of individuals and organizations dedicated to environmental and social problem solutions, and the non-profit Engage Network, which trains civic leaders for organizing social change.
Hill's been arrested in Ecuador for protesting construction of an oil pipeline through an Andean forest that is home to rare birds and is a vocal proponent of tax "redirection," sending her would-be IRS payments to after-school, Native American, gardening and cultural programs. Learn more about Julia Butterfly Hill at www.juliabutterfly.com.
Julia Butterfly Hill has inspired musicians, authors and filmmakers and has penned her autobiography, The Legacy of Luna. Several documentaries tell her story, and she even inspired an episode of The Simpsons: Lisa the Tree Hugger.
Hill will find a rapt audience at Manchester College, where environmental consciousness runs deep. The College is home to one of the nation's first environmental studies programs and is one of the first campuses to recycle. Each year, most MC graduates and faculty sport green ribbons on their robes and take the Graduation Pledge "to explore and take into account the social and environmental consequences of any job I consider and will try to improve these aspects of any organizations for which I work."
The College also is headquarters of the Middle Eel River Watershed Initiative, dedicated to drawing community, agricultural agencies, organizations and individuals together to clean up the polluted waterway.
And Julia will find more than 1,200 fondly nurtured trees to admire on the North Manchester campus, ranging from tulip poplars to hackberries, Norway spruces, white ash and scores and scores of oaks. The College also offers donor opportunities to plant memorial trees and contribute to tree maintenance. Contact College Advancement at 888-257-2586 or giving@manchester.edu.
March 2010