Gallery G: 8 a.m. to 5 p.m., Monday-Friday
noon to 3 p.m. Sunday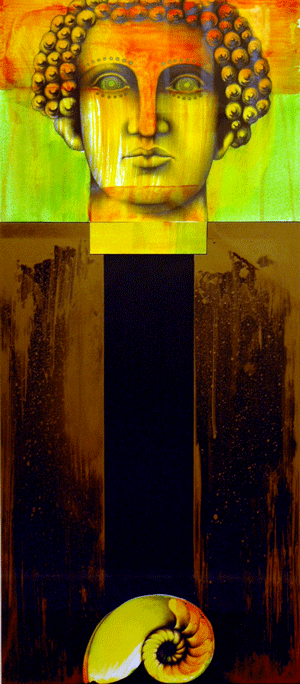 Sacred icons, anthropology
influence Manchester's
Gallery G exhibit
by Justin Johnson
Gold covers the walls Gallery G at Manchester College. Reliquaries of emperors and saints surround visitors to "Saints and Scarabs," exhibit of recent works on paper by Fort Wayne artist Justin Johnson. The free show in the upper College Union continues through Sept. 11.
Johnson's talent is distinctive in works ranging from drawings to mixed media to digital imaging. "The motivation and intent of my work is to visually describe sacred subjects in a contemporary way," says Johnson, who has studied in Italy, France, England, Spain, the Netherlands, Sweden and Russia. "I am influenced by religious icons and historical manuscripts as well as statuary and other forms of spiritual art."
His pieces are a mix of graphite drawings or archival pigment prints covered with glass and drenched in gold. "When displayed, the gold creates an aesthetic that is reminiscent of such sacred works as Byzantine icons, Renaissance manuscripts and Chinese screen paintings," explains the artist.
Johnson is gallery director and art coordinator for the School of Creative Arts of the University of Saint Francis in Fort Wayne. His juried exhibitions and awards include Artlink Contemporary Gallery in Fort Wayne, Garrett Museum of Art, Midwest Museum of American Art in Elkhart, Art Museum of Greater Lafayette and the Great Lakes Emerging Artists Regional Exhibition.
Gallery G hours are 8 a.m. to 5 p.m. Monday through Friday and noon to 3 p.m. Sundays, when classes are in session. Confirm summer hours by calling 260-982-5551. Price lists for Johnson's "Saints & Scarabs" art are available in the gallery or contact the artist at jljohnson@sf.edu or 260-399-7700, ext. 8005.
For more about Manchester College art galleries contact Thelma Rohrer, chair of the Art Department, at tsrohrer@manchester or 260-982-5327.
April 2011