Link Gallery: 8 a.m. to 8 p.m. daily
International experiences, studies, family
inspire Manchester College artist Kate Brelje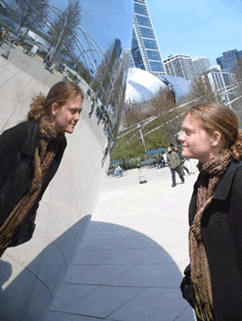 "Creating art is like breathing," says Manchester College senior Kate Brelje. "I am continually creating without paying special attention to the process because it is simply an essential part of my life."

Brelje's creations are on exhibit through Oct. 21 in Link Gallery, surrounding Wine Recital Hall on the east side of campus. The free exhibit is open 8 a.m. to 8 p.m. when classes are in session.

Her display is diverse, from colored pencil, acrylic, pen and oil to woodblock, wool, fabric and digital photography.

From a young age, inspired by a family of artists, the Fort Wayne native began illustrating class lectures and lessons and making the difficult decision to draw instead of read during precious leisure time. (Brelje is a Concordia High School graduate.)

International experiences during her Manchester College career also played an influential role in Brelje's artistic and academic development. Her first year on campus, the art and philosophy major traveled to Italy for a January class in Experiencing the Arts. "Seeing Sandro Botticelli's Birth of Venus in the Uffizi transformed the way I saw line and form," she says.

Brelje created the Gandhi Transformation Series: Reflections on the Life and Work of Gandhi through Painting in response to a class on Gandhi. She studied in Ecuador, witnessing Oswaldo Guayasamín works that reflect the injustice committed against the native populations. And she studied abroad in Sapporo, Japan, awed by the beauty of Buddhist temples and Shinto shrines. Her Japan studies are reflected in her research on Wabi: The Beauty of Imperfection in Japanese Aesthetics.

Visitors to Link Gallery also will find introspection, in Brelje's most recent work, Self-Portrait, completed last summer in acrylic. For purchasing and commission information, contact Brelje directly at kabrelje@manchester.edu.

For more about student exhibitions at Manchester College, contact Thelma Rohrer, Art Department chair, at tsrohrer@manchester.edu or 260-982-5327 or visit www.manchester.edu.

September 2010