7 p.m. Thursday, Sept. 23
upper College Union
(VIA credit)
Nobel Peace Prize nominee to speak
at Manchester College on Sept. 23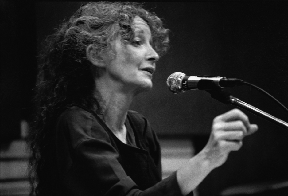 Three-time Nobel Peace Prize nominee Kathy Kelly will speak about the "Cost of War, Price for Peace" at Manchester College on Thursday, Sept. 23. The public is invited to the free 7 p.m. convocation in the upper College Union.
Kelly co-coordinates Voices for Creative Nonviolence, dedicated to ending U.S. economic and military warfare. She has documented the impact of war on civilian populations in Iraq, Afghanistan, Pakistan, Gaza, Jordan, Lebanon, Haiti and Bosnia.
"As an anti-war activist committed to nonviolence, Kathy Kelly represents a minority perspective that will challenge many of our conceptions about the efficacy and nature of warfare," said Katy Gray Brown, director of peace studies for Manchester College.
To learn more about Voices for Creative Nonviolence and Kathy Kelly, visit www.vcnv.org. To learn more about the nation's oldest program in peace studies at Manchester College, visit www.manchester.edu.
September 2010