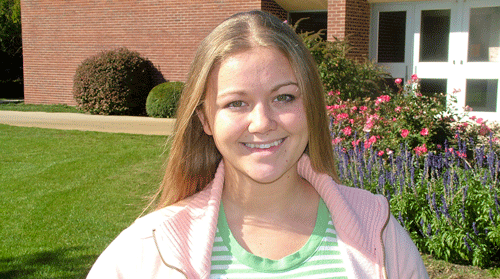 New-to-college family finds
state-honored success at Manchester
Adjusting to college can be a challenge – especially when all those new experiences also include Mock Trial, two choirs, a campus job and Dean's List study habits, all while carrying a double major in history and Spanish to prepare for law school.
Manchester College sophomore Kaylee Hawley is realizing the dream. Making her story extraordinary is that the Winchester, Ind., native is the first in her family to attend college.
The 31-school Independent Colleges of Indiana is honoring Hawley as Manchester's "Realizing the Dream" Outstanding First-Generation Student for 2009-2010. The daughter of Lawanna and Rick Hawley joins 30 other Indiana high school grads who earned superior grades during their first semester at an Indiana independent college, were campus leaders and whose parents did not attend college.
Hawley also receives $2,000 toward her Manchester expenses to commemorate her achievement. There's more to her success story: While a high school student, Hawley received considerable encouragement and mentoring from Michael Greene, band and choir director at Winchester Community High School.
"She is a very talented young woman who has a great attitude and work ethic," says Greene. "I am very proud of her accomplishments." For his participation in the success of a first-generation college student, Green receives $1,000 to spend on his music program at Winchester.
More than 25 percent of Manchester College students are the first in their families to attend college. The 1,278-student northern Indiana campus is a perfect fit for families new to the college experience, says Bonnie O'Connell, director of academic support.
"First-generation students find the people at Manchester College are welcoming, supportive and caring," notes O'Connell, whose offices are in the Success Center in the College Union, where students receive a wealth of support, from counseling and tutoring to career, study and note-taking advice."
"Realizing the Dream" is made possible by a grant from Lilly Endowment Inc. Learn more about Manchester College at www.manchester.edu.
October 2010