"Manchester taught me to think,"
says multi-million-dollar benefactor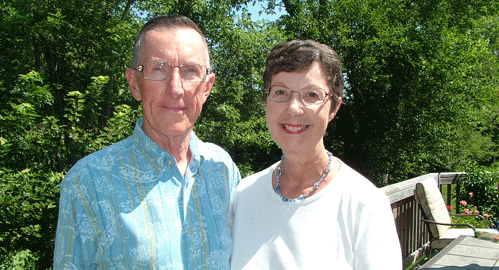 Two medical ethicists nurtured by the mission of Manchester College plan to give 90 percent of their estate to the northern Indiana school. The unrestricted bequest "for the greatest needs and priorities of the College" is valued today in the millions – the largest gift in the history of the 1,278-student liberal arts College, said President Jo Young Switzer.
Dr. Harry Keffer '59, a retired anesthesiologist, and Dr. Jan Keffer, a retired adult nurse practitioner, received their professional degrees and served on the faculties at Big Ten universities. "They don't need our money as much as a small liberal arts college," said Jan Keffer. "Both of us feel very strongly – we want to leave our money to help further the aims of education at Manchester College."
"The Keffers' commitment to give back to the College that helped shape their vocations is a reflection of their generosity and insight," said President Switzer. "Their gift celebrates the past and supports the future to enhance student learning. We are deeply grateful."
Harry Keffer, a 1959 Manchester chemistry graduate, has shared his memories, pranks and love for his baccalaureate alma mater with his wife of 46 years. "The stories he tells of growing up at Manchester … I have vicariously enjoyed the experience with him," said Jan Keffer, who met her husband in the '60s, when he was doing his anesthesiology internship and residency in Oregon.
Today, the fit and active 70ish Keffers split their time between retirement communities in central Indiana and Arizona, amid considerable travel. They also give generously to the College in other ways, especially to helping Manchester students discover career passions, the Science Center and annual gifts to The Manchester Fund.
"We appreciate the constancy of Manchester," said Harry Keffer. "The College got me into medical school and over the years, I've noticed the quality is still the same." His stories of his grandfather, English Professor Lloyd Hoff '21, chemistry Professor Carl Holl '16 and religion and philosophy Professor Robert H. Miller '16 are vivid with lessons in respect (and molding) of Keffer's often-contrary, sometimes out-of-the box opinions. "Manchester taught me to think; that's so important," he said.
Those lessons in critical thinking and values-based reasoning stuck, reinforced by Keffer's study at Northwestern University School of Medicine, where he learned "if you took a good history, the lab would confirm your diagnosis." Quite simply, and holistically: "People who are treated more personally do better," said Jan Keffer.
Both are former Indiana University faculty members and continue to lecture on medical ethics and – particularly about the ethics of end-of-life decisions and genetic testing.
In the same manner as he treated the person, not the just the patient or the symptom, "Manchester places students first, providing not only a well-rounded education, but preparing people to cope with the world today and in the future," said Harry Keffer.
For more about planned giving to Manchester College, connect at www.manchester.edu, giving@manchester.edu or 888-257-2586.
September 2010