Yahoo! war correspondent to speak, receive
2008 Innovator of the Year
award from Manchester College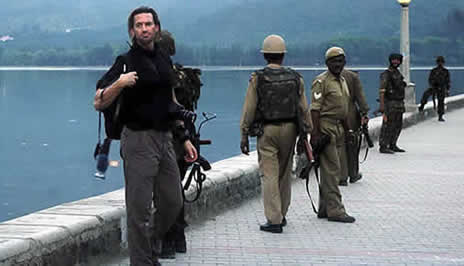 For Kevin Sites, bullets and bombs are part of the job. He has spent the last five years traveling into warzones across the world to report on victims of conflict. On Friday, Sept. 26, Manchester College will applaud his unique approach to journalism as its "2008 Innovator of the Year."
Honored with an Emmy nomination, by Time magazine as the web's best war correspondent, and with a 2007 Webby award for best news/documentary/public affairs website, there is no shortage of plaques on his wall.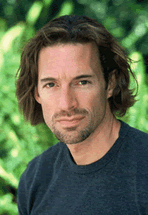 Sites pioneered backpack journalism, traveling alone into dangerous countries with only a backpack of portable digital technology for recording, editing and writing his stories. The public is invited to the award presentation and Kevin Sites' lecture at 10 a.m. on Sept. 26 in the upper College Union. The event is free.
Journalists aren't typically associated with innovation, notes Jim Falkiner, the College's Mark E. Johnson Professor of Entrepreneurship. "We often think of innovators as scientists or business people. I want Manchester students to realize that you can be an innovator in any career, or even if you don't have a career yet."
Since he was hired by Yahoo! as its first correspondent in 2005, Sites has traveled to war-torn countries to report on the affect of armed conflict on everyday people. His stories are documented on his website, Kevin Sites in the Hot Zone, at hotzone.yahoo.com. His "Hot Zones" range from Sri Lanka and Iran to Israel, Uganda, Vietnam and the Congo. Visitors to his website can get lost for hours in Sites' stories and videos.
"Kevin Sites is an engaging entrepreneur who has been to many dangerous places and has many stories to tell," said Falkiner. "He is someone who can energize people and give them that desire to go out and make a difference."
Sites will receive a Manchester College "Innovator of the Year" debit card to use in any country to help individuals ease the pain or dislocation caused by armed conflict. "Kevin might use the card to purchase sewing supplies for a woman to earn badly needed income for her family. You've heard of micro-lending; this would be on-site micro-giving," said Falkiner.
For more about Kevin Sites, visit www.kevinsitesreports.com or hotzone.yahoo.com. The Johnston Entrepreneurship Program at Manchester College is about leveraging the very powerful tools of entrepreneurship across a global society, wherever Manchester graduates may apply their time and talents. For more about entrepreneurship at Manchester College, or studying for a "Certificate in Innovation," visit idea.manchester.edu.