4 p.m. Wednesday, April 4
Cordier Auditorium
Manchester College lecturer to tell how
to engage college students for learning success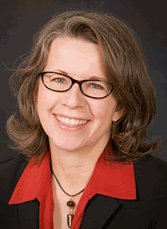 Jillian Kinzie is an expert on what works and doesn't when it comes to curriculums and academic activities in higher education.
As associate director for the National Survey of Student Engagement (NSSE) Institute, she thrives on quantitative and qualitative research. It's her passion to analyze and document effective education practice and then help institutions use that data to heighten student engagement in successful curriculums and activities.
On Wednesday, April 4, Kinzie will present "Making the Most of College: How Engaged are Today's Students in Educationally Purposeful Activities?" at Manchester College. The Harry '35 and Jeanette Henney Lecture begins at 4 p.m. in Cordier Auditorium on the North Manchester campus. The event is free; reservations are not necessary.
Student engagement represents two critical features of collegiate quality, according to the National Survey of Student Engagement:
how much time and effort students put into their studies and other educationally purposeful activities
how the institution deploys its resources and organizes the curriculum and other learning opportunities to get students to participate in activities linked to student learning
Kinzie, who has a Ph.D. in higher education from Indiana University, has more than a decade of experience in research and academic and student affairs administration. Her research interests include college choice, first-year student development, college teaching and learning. Learn more about NSSE at nsse.iub.edu.
The Harry '35 and Jeanette Henney Lectureship was established by Dr. Jane E. Henney, a 1969 graduate of Manchester College and member of its Board of Trustees, to honor her parents. The former commissioner of the U.S. Food and Drug Administration currently is a professor of medicine for the University of Cincinnati.


March 2012