Gallery G: 8 a.m. to 5 p.m. Monday-Friday
noon to 3 p.m. Sunday
Alumni Series features artwork
of Warsaw teacher Karen J. Klimpert '85
The art of Warsaw teacher Karen J. Klimpert '85 returns to the walls of Manchester College for an Alumni Series exhibition in Gallery G.
Klimpert paints in acrylics and oils. Works in this Alumni Series exhibition are almost all new paintings, not shown on campus before. Most were painted in the last two years. Some of her fanciful works on display through Nov. 28 are a combination of two and three dimensions.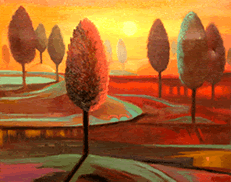 Particularly fascinated by the stage, her artwork has served as backdrop illustrations for Manchester Symphony Orchestra campus performances of Mussorgsky's Night on Bald Mountain, Prokofiev's Peter and the Wolf and Camille Saint-Saëns' Danse Macabre.
Klimpert, the daughter of artist Rudi Klimpert, has taught in Warsaw Community Schools for more than 20 years. "Being with students, I often do pastel demonstrations with students and go home to do more," she says. "Every medium inspires me ... I have ideas that come so fast that I can't get them onto the canvas quickly enough." (Pictured: Sunset 201, oil on canvas)
Gallery G, in the upper College Union on the east side of the North Manchester campus, is open Monday through Friday from 8 a.m. to 5 p.m. and Sundays from noon to 3 p.m., when classes are in session. Admission is free. Appointments are available via the Art Department, 260-982-5327.
Klimpert is a 1985 art education graduate of Manchester College. She studied at the American Academy of Art and has a master's degree in education from Nova Southeastern University in Florida.
October 2010