June 25-29, 2012
LEGO® Camp teaches about gears,
energy, friction … and how to make
really awesome stuff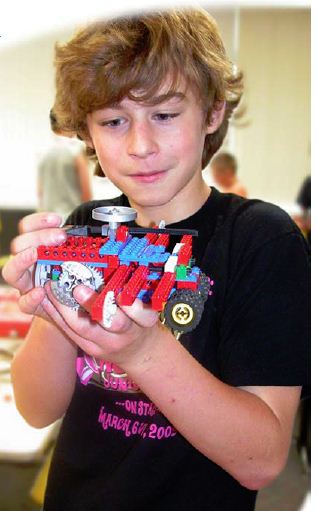 They'll build cars, critters, contraptions and their imaginations: kids who register now for the LEGO® Camp on June 25-29 at Manchester College.
Participants get to create motorized vehicles using customized LEGO® kits during the Monday-through-Friday camp on the North Manchester, Ind., campus. They'll also learn about engineering their own vehicles, in classes designed for their age.
Afternoons, youth in grades 4-8 will build up to 13 different motorized vehicles using unique LEGO® kits. They'll try their skill at familiar vehicles, concept cars and out-of-this-world machines, learning basic engineering principles, gearing and gear ratios, electric motors and energy.
Mornings, younger LEGO® fans in grades 1-3 will learn basic engineering principles and about friction, forces, motion, and even aerodynamics.
"It's limitless," says Alexis Young, director of conference services for Manchester. "You can go wherever your imagination takes you." All participants will get plenty of hands-on lessons in problem-solving and communication skills.
The camp fee of $135 includes the entire week of workshops plus a T-shirt. Parents or guardians must sign authorization forms for their children. Register by June 15 at www.meetatmanchester.com and click on Upcoming Events or call 260-982-5246.
Hosting Manchester's LEGO® Camp is All About Learning Inc., which uses its LEGO® kits to teach science, technology, engineering and math (STEM). For more about the company, which is not endorsed by LEGO Group, click here.
For more about the LEGO® Camp and other conference services at Manchester College, contact Alexis Young at 260-982-5246 or adyoung@manchester.edu.
May 2012