MU honors Salupo, Curry
as its top student leaders of 2013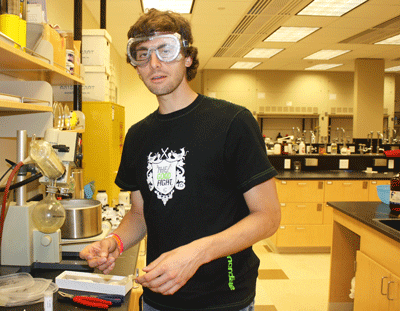 Senior Nick Salupo spent his spring breaks in the South, just like thousands of college students, but his sunburns didn't come from the beaches. They came from the roofs and ladders at strangers' homes he helped build and repair as a volunteer with Habitat for Humanity.

Salupo, an athletic training and biology-chemistry duo major headed for med school, is right at home with service – and service leadership. The Indianapolis native has served as vice president of the local Habitat for Humanity chapter, and as a member of numerous academic and campus life organizations and honorary societies.

Salupo is Manchester's 2013 Capstone Outstanding Senior Leader for his significant contributions to the quality of campus life throughout his Manchester University career. He will graduate with honors on May 19.
He's an All-Conference cross country and track and field star, too, and has served as an athletic trainer for three Spartan teams. And, he's presented twice at the annual Student Research Symposium, tutors for the Chemistry and Biology departments and works for the campus Success Center.

"Nick is one of the most motivated, well-rounded, and intellectually curious students I have encountered," says Stacy Erickson, assistant professor of English. She knows Salupo well – as his teacher, as a Habitat co-volunteer and as his mentor for the young scholar's research on the motivation of readers.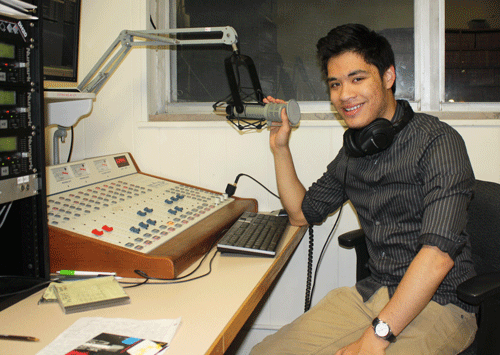 Junior Brandon Curry, a history major from South Whitley, Ind., is the 2013 Outstanding Student Leader of the Year. His leadership spans the North Manchester campus: as vice president of the Student Education Association, co-coordinator of Partners in Learning, and in planning programs for the Association of Retarded Citizens (ARC).

Curry also is a member of the Student Senate and the student alumni organization Students Today, Alumni Tomorrow. He is promotions director for campus radio station WBKE, an academic affiliate of Northeast Indiana Public Radio.

"Brandon is a poised, effective, thoughtful and quiet leader, working with a number of organizations directly and behind the scenes," says Beth Sweitzer-Riley, vice president for student development. "In each case, Brandon is a dedicated servant leader who helps others in need with compassion and a giving heart."

To read more about Manchester University and its students' achievements, visit www.manchester.edu.
May 2013