4 p.m. Thursday, April 14
Cordier Auditorium
9/11, Iraq advisor Lee Hamilton to speak
at Manchester, receive honorary degree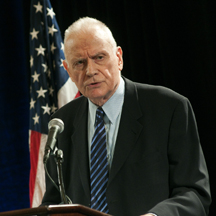 The Hon. Lee H. Hamilton, co-author of the 9/11 Commission Report, will speak on "The U.S. Role in the World after Afghanistan and Iraq" on Thursday, April 14 at Manchester College. The public is invited to the free convocation at 4 p.m. in Cordier Auditorium.
Hamilton, who served Indiana's 9th Congressional District for 34 years, will receive an honorary Doctor of Laws degree from the College "in recognition of his principled service to government and his skills as a consensus builder." The ceremony will precede his lecture.
As a congressman, Hamilton became one of the nation's most-respected voices on foreign policy. "His work ethic and civility reflected what is best about American government," said Manchester President Jo Young Switzer.
First elected to Congress in 1964, Hamilton has worked with nine presidents and led some of America's most important inquiries and investigations. He served as vice chair of the 9/11 Commission and as Democratic co-chair of the Iraq Study Group.
As longtime president and director of the Woodrow Wilson International Center for Scholars and director of The Center on Congress at Indiana University, Hamilton promotes non-partisan dialogue on public policy. He advises the CIA, FBI, Homeland Security and President Obama.
His books include A Creative Tension: The Foreign Policy Roles of the President and Congress, How Congress Works and Why You Should Care and Without Precedent: The Inside Story of the 9/11 Commission.
April 2011