Career Service's Liz Bushnell
is a role model for young leaders,
says Indiana governor, council
Manchester College career services innovator Elizabeth Bushnell is tapped to receive the prestigious Governor's Award for Tomorrow's Leaders at the Indiana Leadership Summit in Indianapolis on June 8. Presented by the Office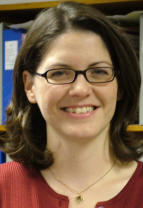 of the Governor and the Indiana Humanities Council, the award and $1,000 recognizes Bushnell as a role model and inspiration to her peers and all citizens of Indiana.
Bushnell, associate director of career services, said she will donate the $1,000 to Young Leaders of Northeast Indiana, which she co-founded to develop young leaders through professional, social, and cultural opportunities. Her leadership in that organization, which within a year has grown to 650 members, is one of the reasons Bushnell is so deserving of the statewide honor, said her nominator, Michael Kelly, director of entrepreneurship and corporate training at Indiana University-Purdue University Fort Wayne.
At Manchester, Bushnell used a Lilly Endowment Inc. grant to develop an internship program that matches students with local employers to stimulate economic development. Students get real-world experience in Indiana and employers get fresh ideas on projects. She also serves as a consultant to other colleges and universities seeking to develop similar programs.
This year, Bushnell led an entrepreneurial training for about 100 students, alumni and members of the community. She also directs the Office of Volunteer Services, part of a campus initiative to create service opportunities, introducing students to local and global needs.
Bushnell holds a bachelor's degree from McDaniel College, a master's degree from Bowie State University, and multiple certifications in her field. A columnist for Fort Wayne Woman magazine, she lives in Winona Lake with her husband, Peter, and newborn daughter, Autumn Hailey.
Learn more about Career Services