MC students tell legislators
about benefits of college state aid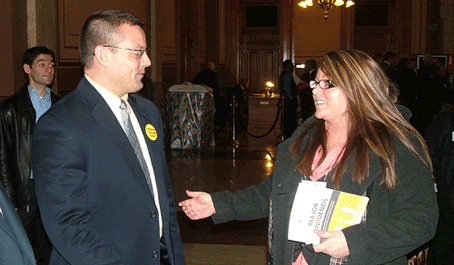 Senior Aja Neumann talks about her plans for law school with Rep. Jud McMillin
Manchester College students gave their state legislators mini-lectures on need-based state aid and learned lessons in effective persuasion at Lobby Day 2011 for Independent Colleges of Indiana. The CliffsNotes version of their message: Need-based state aid for college students is a smart economic decision that pays big dividends for Indiana.
It was a great day at the Statehouse, said the students, who first thanked their hometown legislators for their need-based state aid and Indiana scholarships. The students told their senators and representatives personal stories of how critical state aid is to their ability to attend college and about their plans after graduation. More than 85 percent of Manchester's 1,278 students receive need-based state aid.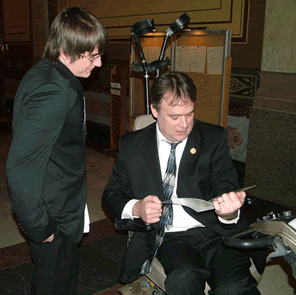 While legislators in their last budget cycle increased need-based state aid to college students, the individual State Student Assistance Commission of Indiana (SSACI) grants actually were 31 percent less because of a surge in struggling Hoosier families seeking student financial aid. Manchester students joined students from seven other colleges and universities in the first of three Independent Colleges of Indiana student lobby days at the State House during the budget session.
"This was a great way to be involved in state politics," said Samantha Chapman, a junior political science major from Fort Wayne. She talked with freshman Rep. Rebecca Kubacki (R- Syracuse) and congratulated her on unanimous committee approval of her first bill.
Senior political science major Jason Ray of Liberty, Ind., told Rep. Tom Knollman (R-Liberty) that a bachelor's degree earned on an independent campus costs the state of Indiana only $6,200 in student financial aid compared to $63,000 at a public college or university.
Rep. Jud McMillin (R-Brookville) "even offered to write me a letter of recommendation for law school," said Aja Neumann of Milan, Ind. McMillan, an attorney, told the senior political science major he supports funding for higher education.
At a meeting with all of the student "lobbyists," another freshman legislator, Sen. Jim Banks (R-Columbia City), welcomed the students to the Statehouse and applauded their efforts. "Sen. Banks worked really hard with college students during his election campaign," said MC sophomore Veronica Schilb of Fort Wayne. The political science major worked for Banks' election campaign and is convinced: "He understands how important higher education is to college students."
"The experience opened my eyes to new possibilities of incorporating lobbying and public policy into an education career," said Katie Miller, sophomore education major from Winchester, Ind. "I truly enjoyed being an active citizen and working with my legislators on major issues."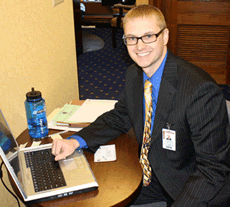 Manchester students also visited with MC biology-chemistry major Josh Bowling (pictured at left), who is serving as an intern for Indiana Senate Republicans. The senior from Richmond, Ind., commutes each day to his Statehouse job.
"While my job is primarily is to help respond to constituent needs, it is always unique to connect with new people, especially when you have something in common," he said.
Accompanying the students were Dr. Leonard Williams, professor of political science, and Jeri Kornegay, public relations director, who also met with legislators. Before the trip, the students received state aid tips from the College's director of student financial services, Sherri Shockey.
Student "lobbyists" for Manchester College
Samantha Chapman, junior political science major from Fort Wayne, Ind.
Cassandra Davis, junior political science major from Cloverdale, Ind.
Courtney Hall, senior political science major from Bringhurst, Ind.
Kaylee Hawley, sophomore history and Spanish major from Winchester, Ind.
William Kallas, junior political science and communication studies major from Hammond, Ind.
Katie Miller, sophomore education major from Winchester, Ind.
Aja Neumann, senior political science major from Milan, Ind.
Jason Ray, senior political science major from Liberty, Ind.
Kacee Robins, senior history major from Huntertown, Ind.
Veronica Schilb, sophomore political science major from Fort Wayne, Ind.
Benjamin Tapper, junior political science major from Hobart, Ind.
Christopher Thomas, junior political science major from Alexandria, Ind.
February 2011