Sen. Lugar to receive honorary degree
from Manchester College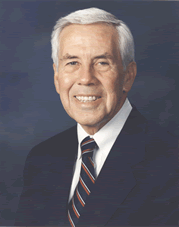 U.S. Sen. Richard G. Lugar (R-Ind.) will deliver the keynote address and receive an honorary degree at Manchester College's 121st commencement on Sunday, May 23.
"Sen. Lugar is a highly-respected statesman who uses his intellect and wide experience to collaborate with colleagues toward solutions that benefit the nation," said College President Jo Young Switzer. "We are honored he will be on campus to accept an honorary Doctor of Humane Letters from Manchester College."
Commencement exercises begin at 2:30 p.m. in the Physical Education and Recreation Center (PERC). Following Lugar's address, the College will confer degrees upon 193 students.
The Indianapolis 78-year-old native has spoken before at Manchester College, for the 1970 commencement, and in his teens, as a member of the championship Shortridge High School debate team.
Lugar is widely recognized for his leadership in national security — especially for his influence in the ratification of treaties and agreements to deactivate and reduce manufacture of nuclear weapons. The Senate Foreign Relations Committee member also is an advocate for international educational exchange programs.
As a member and former chair of the Senate Agriculture, Nutrition and Forestry Committee, the Marion County grain and tree farmer has built bipartisan support for federal farm programs and reforms, increasing farm exports and biofuels research.
In March, he launched the Lugar Energy Initiative, focusing first on energy savings that have minimal impact on the federal budget, then on reducing foreign oil dependence, diversifying and cleaning up power sources and improving competitiveness.
Lugar holds a bachelor's degree from Denison University (where he has served on the Board of Trustees for more than two decades) and studied politics, economics and philosophy at Oxford University as a Rhodes Scholar. He also served as an officer in the U.S. Navy. He entered public service as a member of the Indianapolis School Board, working toward desegregation. He served two terms as mayor of Indianapolis, and was elected to the U.S. Senator in 1976. In 2006, Sen. Lugar was re-elected to a sixth term. He is the most-senior Republican member of the U.S. Senate.
For more information about the 2010 Manchester College graduation, click here.
April 2010