Barrier-breaking pastor
is Manchester's MLK keynoter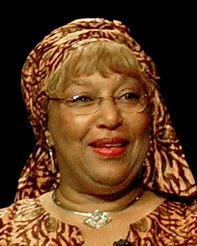 A ground-breaking pastor from Pennsylvania and stories of students and faculty who also have breached barriers highlight 2011 Martin Luther King Jr. observances at Manchester College in January. The public is welcome at both free events on the North Manchester campus.
The first black woman ordained in the Church of the Brethren – the Rev. Belita Mitchell, pastor of Harrisburg First Church of the Brethren in Pennsylvania – will bring the keynote address for the MLK Service of Celebration and Rededication. Her speech, Navigating the storms of life ... excess baggage not allowed, is scheduled for 7 p.m. Friday, Jan. 14 in the College Union. The evening includes a student choir, readings and reflections on King's legacy.
At 7 p.m. on Monday, Jan. 17 in Petersime Chapel, readers will share student and faculty stories about challenging the status quo, as well as poetry and images. Refreshments will follow.
Rev. Mitchell, who grew up in southern Illinois and Detroit, also was moderator of the 2007 Annual Conference of the Church of the Brethren, the denomination's highest elected office.
Manchester, with deep Church of the Brethren roots, also is connected with Martin Luther King Jr., who spoke at the college shortly before his assassination in 1968. Home of the nation's oldest undergraduate peace studies program, Manchester continues to embrace King's causes of equality and justice.
MLK weekend is sponsored by Campus Ministry and the Office of Multicultural Affairs. For more about Manchester College, with 1,278 students from 21 countries and 22 states, visit www.manchester.edu.

January 2011