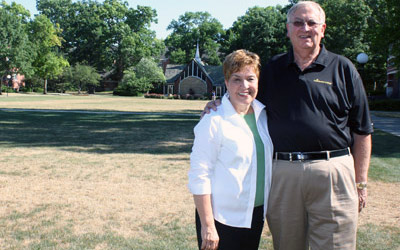 Manchester graduate is Lions
International president
1968 Manchester graduate Wayne Madden is the newest president of the 1.35-million-member Lions Clubs International. In a video that introduces him to Lions members worldwide, Madden and his wife Linda (a 1969 Manchester graduate) talk about their Manchester roots.

The official Lions presidential biographical video features Manchester prominently with scenes recorded last summer when Wayne and Linda returned to campus. Two important campus stops for that video: Petersime Chapel, where the couple married in a small ceremony, and a Lions International message from the actual podium Martin Luther King Jr. stood at to deliver a convocation address in 1968.

Here's a link to the video Lions International is sharing worldwide to its 44,000 clubs.
Other links about the Maddens and their Lions International and Manchester story:


For more about Manchester, visit www.manchester.edu.
July 2012