The Life of Madonna Wine Goss
8 a.m. to 5 p.m. weekdays through summer
Link Gallery, Wine Recital Hall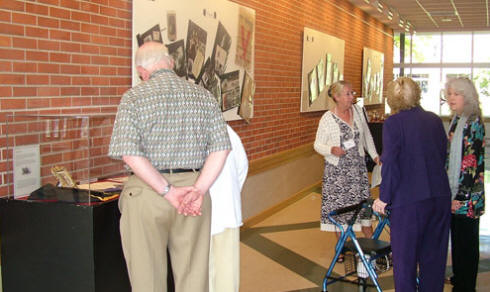 MC Archivist Jeanine Wine (far right) discusses the Madonna Wine Goss exhibit
with Alumni Days visitors at the May 29 reception in Link Gallery.
Alumna Madonna Wine Goss exhibit
celebrates a heritage rich
in music and teaching
Manchester College is celebrating alumna and benefactor Madonna Wine Goss in its Link Gallery at Wine Recital Hall throughout the summer in an extraordinary display of treasures of her life in music, teaching, travel and at home.
The $1.3 million Norman and Grace Wine Recital Hall opened in 2004 with a gift from Madonna in tribute to hers parents. She was present for the dedication, surrounded by family, delighting in the music that filled the fine new recital hall and in students' excitement over their versatile new venue.
The sound of the College's celebrated A Cappella Choir (which has performed twice at Carnegie Hall and in the cathedrals of Italy) filled the crowded hall.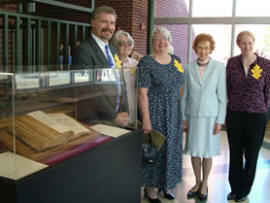 Madonna Wine Goss (in turquoise suit) and family with Sauer Bible at dedication of Wine Recital Hall in fall 2004. Nephew Leland Harding is at far left.
"Wine Recital Hall is a pride of the Manchester College campus, giving hundreds of young voices, musicians and audiences the opportunity to discover the lifetime of opportunities and enjoyment that come through music," said college President Jo Young Switzer. "Madonna Wine Goss would be pleased." Madonna Wine Goss died Dec. 18, 2006.
The idea for the exhibit, titled "The Life of Madonna Wine Goss," came from her nephew and executor of her estate, Leland Harding. He delivered boxes of her treasures to the archives for the display, which opened during residential Alumni Days on May 28-29 for older alumni classes. The exhibit in Link Gallery, which surrounds Wine Recital Hall, remains open weekdays, 8 a.m. to 5 p.m., until Sept. 1.
The collection is rich with Madonna's passion for life, music and teaching. College archivist Jeanine Wine (no relation) pored through the hundreds of photographs, china Madonna's mother had hand-painted, tea and coffee services, newspapers and paintings by her mother. Exhibit-goers discover the growth of an artist, musician and teacher. The display includes a video tribute to Madonna by Hollywood producer, director, composer Bill Jacobs, one of her music students.
Photos depict Madonna as a child, with her students, at the piano, with college chums. She graduated in 1946 with a bachelor of science degree in secondary education and a major in music. Throughout her life, she continued to study music, at Westminster Choir College, the Cincinnati Conservatory of Music, the elite Andover Institute of Organ and the Julliard School of Music. The collection makes it obvious: "In her generosity to Manchester, Madonna returned to her roots: the parents whose love of music and art shaped her formative years, the Church of the Brethren that nurtured and guided her faith, and her alma mater, the school that launched her career in the arts," said archivist Wine.
Madonna's 50 years as a church organist began while she was in high school, at the College Street Church of the Brethren in Dayton. She served as organist for the Dayton First Baptist Church for 35 years, joining the church. She taught vocal and instrumental music in all 12 grades at Alexandria, returning in 1948 to Dayton to teach choral music and organ at Roosevelt School. She taught in the Kettering school system for 21 years before retiring in 1983. Many of her students were selected to sing in the Ohio Honors Choir, which she assistant directed and accompanied. Mrs. G's Broadway musicals at Fairmont East High School are legendary in the Dayton community.
The exhibit included many photos of those productions and cast poses. Exhibit-goers will learn that Madonna had opportunity to play the world-famous Methuen Organ while she studied at the Andover Institute of Organ. At the same time, organist and humanitarian Dr. Albert Schweitzer toured the Aeolian-Skinner organ factory with one of her Andover faculty members, renowned organist E. Power Biggs. "Perhaps that is why a picture of Schweitzer and Biggs is included in her scrapbook," said the archivist. Madonna also observed, at Tanglewood, the talents of Leonard Bernstein and other musicians who would shape American music in the 20th century.
Madonna Wine was a true child of Manchester, born in the college hospital on what was both Easter Sunday and April Fool's Day in 1923, in the spring of her father Norman B. Wine's graduation. Grace and Norman Wine then returned to southern Ohio, where he had been an ordained minister in the West Dayton Church of the Brethren. (Manchester is a college of the Church of the Brethren.)
The couple further set Madonna's path as Norman, continuing to serve as a minister, taught and served in the administration of Dayton Public Schools. Throughout, he maintained close ties with his alma mater, serving on the Board of Trustees and receiving an honorary Doctor of Laws degree from Manchester in 1945. Madonna and Ted Goss married in 1950 in her parents' home. Goss was a U.S. Air Force personnel liaison to the Swedish Air Force and the couple traveled widely. The exhibit includes photos from their travels, including of Queen Elizabeth and the Duke of Edinburgh.
The gallery exhibit is rich with Madonna's Brethren heritage, but significantly and historically so with the loan of a family Sauer Bible – one of the first Bibles printed in a European language in the American colonies. The Bible has been in Madonna's family for more than 225 years, and now is entrusted to the care of her cousin Leland Harding and his family.