7:30 p.m. Wednesday, March 17
Wine Recital Hall
Musician, poet, teacher Debra Marquart
bringing lecture, workshop to Manchester College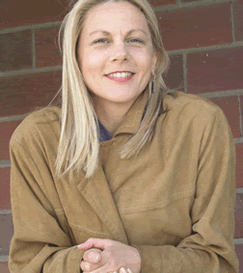 Poet, rock musician, author, professor Debra Marquart will wear her many hats to Manchester College for a lecture and writing workshop on Wednesday, March 17.
Marquart will present excerpts from her memoir, The Horizontal World: Growing Up Wild in the Middle of Nowhere, about her childhood on a North Dakota farm. The memoir received the 2007 PEN USA award for creative non-fiction and the Elle Letters award from Elle magazine. The readings begin at 7:30 p.m. on March 17, in Wine Recital Hall. Admission is free.
Earlier in the day, Marquart will lead students in a writing workshop, focusing on memory-based poems and prose, and how to set those poems to music.
In the seventies and eighties, Marquart toured with rock and heavy metal bands. Her collection of short stories, The Hunger Bone: Rock & Roll Stories draws from her experiences as a female road musician. Today, she teaches English and creative writing at Iowa State University. Her work has appeared in numerous journals, including The North American Review, Three Penny Review, Crab Orchard Review and Orion.
Find more about Debra Marquart at www.debramarquart.com.