Karl Marx returns to Manchester campus March 26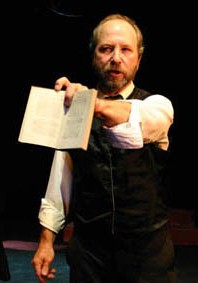 Manchester University invites the public to spend an evening with Karl Marx on Tuesday, March 26 in Wine Recital Hall on the North Manchester campus. The free performance of Howard Zinn's play, Marx in Soho begins at 7 p.m. Reservations are not necessary.
Actor Bob Weick brings Marx back to Earth to defend the relevance of his ideas and to highlight the serious social issues facing us today. (Marx died in 1883.) The performance promises to prompt intense and enthusiastic audience discussion.
Marx, via Weick, has visited the Manchester campus numerous times, sponsored by the MU Peace Studies Institute and the Department of Religion and Philosophy, and supported by the Timothy Wayne Rieman and Gwen Radebach Riemand Fund.
For more about Marx in Soho, visit www.marxinsoho.com. For more about the nation's oldest peace studies program at Manchester University, visit www.manchester.edu.
March 2013