7 p.m. Saturday, Oct. 2
Wine Recital Hall
(VIA credit)
Howard Zinn's Marx in Soho takes
the Manchester College stage Oct. 2
Karl Marx will visit the Manchester College campus at 7 p.m. on Saturday, Oct. 2, coming to life in the one-act play Marx in Soho by Howard Zinn. The free performance is in Wine Recital Hall; reservations are not necessary.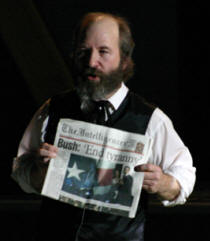 In the play, Karl Marx, portrayed by Bob Weick, returns to Earth to mischievously defend his ideas and renew his call for social change. (Marx died in 1883.) The performance promises to prompt intense and enthusiastic discussion.
Reports Philadelphia Inquirer about Weick's performance: "Though Marx has been demonized by some as the father of communism, Robert Weick portrays him as a personable man devoted to his wife and family as he writes Das Kapital and struggles to make ends meet," reports the Philadelphia Inquirer.
Historian, playwright, activist Howard Zinn is best known for his book, A People's History of the United States. The Manchester performance is sponsored by the College's Department of Religion and Philosophy, Peace Studies Institute, Manchester Historical Society and the campus History Club, with support from the Timothy Wayne Rieman and Gwen Radebach Rieman Fund.
For more about Manchester College, home of the nation's oldest peace studies program, visit www.manchester.edu.
September 2010