Manchester tailors new master's degree
to needs of school districts, teachers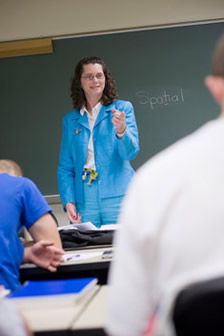 Beginning this fall, educators can add versatility and marketability to their teaching licenses with a new master's degree from Manchester College. That's good news, too, for school districts that need educators with diverse skills to accommodate shrinking budgets.
Identified by the Indiana Department of Education as a model program, Manchester's new Master of Education degree is designed to meet the evolving needs of professional educators in today's schools.
"Manchester asked area educators what kind of graduate curriculum would best serve their schools," said Dr. Korrine Gust, director of the Master of Education program. The result is a flexible graduate program that will respond nimbly to issues confronting preschool through 12th grade educators as they arise.
"If there are teacher shortages in specific fields, Manchester can embed courses within its program to qualify teachers for those needed licenses," Gust said.
Manchester has a reputation for developing excellent educators ready for the classroom, making the independent college a natural route to Master of Education degree. About 20 percent of the College's undergraduate students are education majors who spend more than 27,000 hours in the classroom annually. And they get jobs: More than 90 percent of Manchester education alumni enter their careers within six months of graduation.
"The new Master of Education degree focuses on building better teachers, enhancing their license for versatility and marketability in school districts," Gust said. Teachers also may take courses for license renewal or professional development.
Manchester College is working closely with Indiana Education Service Centers to make the master's degree relevant and convenient. Most course work is online or independent study, enabling working teachers to manage their study time. The few classroom requirements will be offered at night. In addition, teachers can apply seminar courses offered through Region 8 Education Service Center toward the master's degree.
Enrollment is under way, with classes starting in fall 2010. While any person with a baccalaureate degree (in any major) and at least a 3.0 cumulative GPA may apply for admission to the Manchester College Master of Education program, the curriculum is tailored for current teachers or administrators.
For more about the Manchester College Master's Degree in Education, visit graduateprograms.manchester.edu or contact the College at graduateprograms@manchester.edu or 260-982-5051.
April 2010