Young Wabash County math
wizards puzzle out annual contest
Alli, Bob, Charles, Debbie, and Earl are running for mayor of Oopstown. But, the town clerk lost the election results! All he remembers is that Alli received 2000 more votes than Bob and 4,000 fewer votes than Charles. Earl received 2,000 votes fewer than Debbie and 5,000 more votes than Bob. Who won the election?
Eighty of the area's finest young mathematicians tackled this and a dozen other puzzles at the 17th Annual Wabash County Junior High Mathematics Contest on March 23 at Manchester College. Seventh- and eighth-graders from Manchester Junior High, Northfield Junior High, Southwood Junior High and Wabash Middle School competed.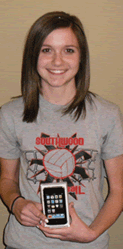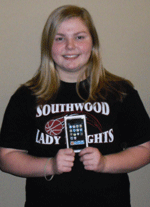 Southwood swept the individual awards, with seventh-grader Grace Whitham (pictured at right) and eighth-grader Amy Bowman (left) taking home the new iPod touch for their first-place honors. Bowman also was on the first-place team, with Ashton Bolinger of Manchester Junior High, Joe Burcoff of Northfield Junior High and Clair Cromer of Wabash Middle School. The top five of the 20 teams received ribbons.
Manchester College's Mathematics and Computer Science Department sponsors, proctors and judges the annual contest, coordinated by Jim Brumbaugh-Smith, associate professor of mathematics. College and school faculty members, and four MC students assisted. Guenin Law Office of Wabash and North Manchester helped underwrite the prizes.
Students especially enjoyed the team problems crafted by Tim Brauch, assistant professor of mathematics, about the mythical Oopstown.
For a complete list of winners, click here.
April 2010