Manchester promotes enrollment,
marketing leader David McFadden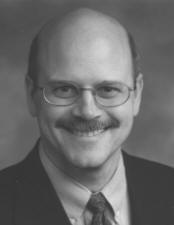 David McFadden will lead enrollment, planning and marketing at Manchester College as Executive Vice President. The promotion recognizes a mission priority to enhance recognition of the College as an excellent choice, said President Jo Young Switzer.
McFadden will oversee a newly formed Communication and Marketing department that will develop more fully as the College advances its strategic initiatives. He also will carry responsibilities for many operational issues.
Manchester, a Church of the Brethren school with about 1,100 students, this year attracted the most applicants in 15 years. Enrollment of first-year students and their SAT scores, also climbed this year.
A 1982 graduate of Manchester and an active member of the Church of the Brethren, McFadden has served as vice president for enrollment since 1993, adding planning to his responsibilities in recent years. He served as interim dean for academic affairs while the College searched for a successor to Switzer, who had served in that role. McFadden led the College's intensive three-year self study for re-accreditation with North Central Association of The Higher Learning Commission in 2003.
Previously, he was director of enrollment management and institutional research at The Claremont Graduate School in California, where he also served as assistant to the vice president for academic affairs, dean of the graduate school and coordinator of summer session. He earned his master's degree and Ph.D. from Claremont.
McFadden and his wife Renee have two children, Rachel and Samuel, both students at Manchester College.