Fort Wayne Wizards general manager
to address students at Manchester College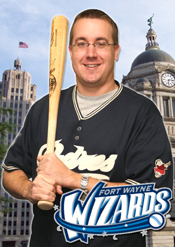 Mike Nutter, general manager of the Fort Wayne Wizards minor league baseball team, will address students at 7:15 p.m. Thursday, Sept. 18 at Manchester College. The public is invited to the talk – which will focus on making the most of internship opportunities – in the Lahman Room of the College Union.
Nutter will share his career experiences, which began as an intern with the Kane County Cougars in 1992, while he was a Dean's List student at Bowling Green State University. He joined the Fort Wayne Wizards in November 1999 and became general manager in September 2000.
He has received the Midwest League 2004 Executive of the Year Award and 2006 Friends of Baseball Chapel Award. Most recently, Upstate Indiana Business Journal named Nutter one of northeast Indiana's most dynamic business leaders under the age of 40.