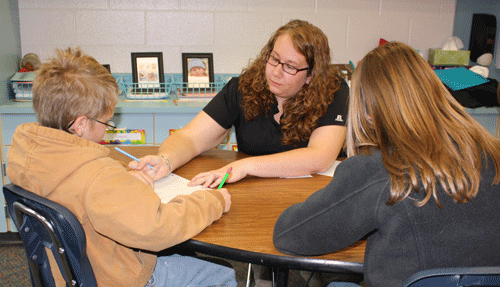 Manchester Intermediate students work with Miranda Piercy to hone their
cursive writing skills for thank you letters
PNC Foundation helps MU junior
learn best practices in teaching
Manchester University junior Miranda Piercy will receive a PNC Foundation-Indiana scholarship to help her toward a career in elementary education.
Piercy, a Dean's List scholar from Walton, Ind., is one of two Hoosiers to receive the Foundation's "Improving School Readiness for Underserved Children through Teacher Training Scholarship." The $1,250 grant is awarded annually to college students who plan to teach underserved elementary or younger children in Indiana.
Her major at MU is early childhood and elementary education with mild intervention, but Miranda is still discovering her future classroom niche. Right now, she favors first and fourth grade, but middle school math tugs her, too.
"We should always focus on the child first, and look at their disability second. This is a key point that I learned this semester," says the Walton, Ind., native and graduate of Lewis Cass Jr.-Sr. High School.
Currently, Piercy is working with fifth-graders at Manchester Intermediate School in Laketon, Ind. "Every day, we pull out the students who are struggling and need extra help," she says. "We put them in a setting with a smaller teacher-student ratio that gives each student more opportunities to ask questions and seek help."
She's learning, too. "My cooperating teacher has taught me so much so far, and she is inspiring me to continue building my knowledge of best teaching practices for my future as a possible special educator."
Outside the classroom, Piercy is fully engaged in Manchester University. She is treasurer of Student Education Association, a math tutor/mentor, Oakwood Hall Council president, a student orientation leader, member of the Student Budget Board and Circle K International and works the phone lines for the University annual fund.
The PNC foundation supports a variety of nonprofit organizations that work toward sustainability with diverse populations, especially early childhood education and economic development. "PNC Foundation is greatly helping me afford my college education that I will use helping children have a fun and safe environment to learn and grow as individuals," says a grateful Piercy.
"Miranda Piercy is well-deserving of the PNC Foundation Scholarship," says Michael Slavkin, MU director of teacher education. "She works hard to grow as a professional. I cannot wait to see what she accomplishes as a future elementary teacher and special educator."
About 190 Manchester University students are education majors. To learn more about the MU education program, which includes an undergraduate and master's degree, visit www.manchester.edu.
November 2012